The Hockey News: NHL finds goalies in the NAHL
November 30, 2016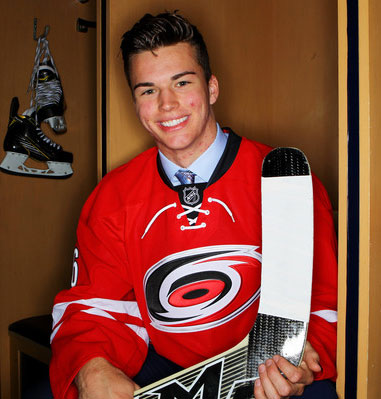 By Ryan Kennedy, The Hockey News
It's the hardest position to forecast and it can make or break your season. Find out why Anthony Stolarz and Connor Hellebuyck advance the conversation
This past Sunday was pretty big for the Flyers and Jets. Philadelphia powered past the Flames with a 5-3 victory, while Winnipeg snapped a five-game losing streak by shutting out the Predators. But there was another subplot at work here, which has to do with goaltending.
The Flyers have suffered mightily under the platoon of Steve Mason and Michal Neuvirth this season, so rookie Anthony Stolarz made his NHL debut and got the win. The Jets boldly stepped into the campaign by demoting veteran Ondrej Pavelec in favor of Connor Hellebuyck and Michael Hutchinson. Hellebuyck got the shutout against Nashville (his second of the season) and has far better stats than his battery mate.
What I find interesting is that both Stolarz and Hellebuyck are products of the North American League (NAHL), a junior circuit a step below the United States League that has been a great place for developing goaltenders. Historically, NHL'ers such as Ben Bishop, Ryan Miller and Craig Anderson all got their starts in the NAHL, but recently there's been a pretty good crop bubbling up too.
The key is ice time. Bishop, for example, played for the Texas Tornado. He ended up playing 45 of 56 games that year, then taking the Tornado all the way to the playoff title. "Probably one of the favorite years of my life," Bishop told me. "I did my senior year of high school there, we won the championship, it was a great group of guys – lived on a golf course, had a pool – it was great."
Stolarz played for the Corpus Christi IceRays in Texas, where he got into 50 of 60 games before heading off to the University of Nebraska-Omaha (and then the OHL's London Knights) the next season. Hellebuyck starred for the Odessa Jackalopes – also in Texas, though I swear the league has teams from Alaska to Massachusetts – where he saw action in 53 of 60 contests.
Another Flyers pick, Matej Tomek, was drafted out of the Topeka RoadRunners program. He's now at the University of North Dakota and we may see him at the world juniors for Slovakia. Carolina third-rounder Jack LaFontaine played for the Janesville Jets in Wisconsin and is now rocking the second-best save percentage in the Big Ten as a freshman at Michigan.