NAHL, IceRays alum Stolarz wins NHL debut
November 28, 2016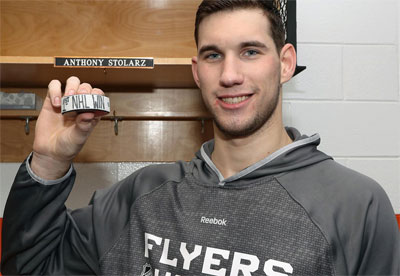 Former North American Hockey League (NAHL) and Corpus Christi IceRays goaltender Anthony Stolarz (2011-12) made and won his National Hockey League (NHL) debut on Sunday night with the Philadelphia Flyers.
Stolarz made 29 saves in the Philadelphia Flyers' 5-3 win against the Calgary Flames at Wells Fargo Center on Sunday. He was named the game's #3 star. "Being able to win your first start is huge," Stolarz said. "Kind of gets you a little more comfortable. I think my pro debut in the American league, I don't think I won for the first five games."
Stolarz, selected directly out of the NAHL by the Flyers in the second round (No. 45) of the 2012 NHL Draft, is the first goaltender born in New Jersey to play in the NHL. Stolarz was also the second player in IceRays junior franchise history to play in the NHL and the first to start as a goaltender.
"It was great. It's a very passionate city. Just being able to watch a couple games here and obviously back up a couple, it's pretty exciting. Finally being able to play a game in front of this crowd there, one of the loudest crowds in the league. For them to give me an ovation like that, it means a lot," continued Stolarz.
Stolarz, 22, came on to the national scene with the IceRays in the NAHL during the 2011-12 season, earning a 23-22-4 record with a 2.84 goals-against average and a .920 save percentage with three shutouts through 50 games played. The Jackson, NJ product currently holds the IceRays junior franchise record for wins by a goaltender for a single-season and shares the lead for career goaltender wins while sitting second in save percentage.
After two seasons with the London Knights of the Ontario Hockey League (OHL), the 6-foot-6, 232-pound goaltender joined the Lehigh Valley Phantoms, the American Hockey League (AHL) affiliate of the Flyers in the 2014-15 season. Since joining the professional ranks, Stolarz has been recalled seven times by the Flyers and backed up other goaltenders for 26 games and was named to the AHL All-Star Classic during the 2015-16 season. He owns a 36-33-11 record with a 2.80 goals-against average and a .913 save percentage with three shutouts in his 86-game professional career with the Phantoms. Through eight games this season, Stolarz has recorded a 6-2-0 record with a 2.39 goals-against average and a .927 save percentage with one shutout, which is on pace to set new career-highs in all categories.
"What an honor this is to have another IceRay play in the NHL," said IceRays General Manager Pat Dunn. "I exchanged texts with Anthony today and told him how proud of him we are here in Corpus Christi. His reply was that this is where his journey began and how this was one of the most fun hockey seasons he's played. Today is a great day for all of us, from his former coach Justin Quenneville to his former teammates and all of the IceRays fans.
"I also told [Stolarz] to enjoy the moment because he's one of the very few that can say they played in the best league in the world, and no one will be able to take that away from him. Here's a message to all players that's written on a banner that hangs in the American Bank Center with his picture on it: follow your dreams!"