November 23, 2016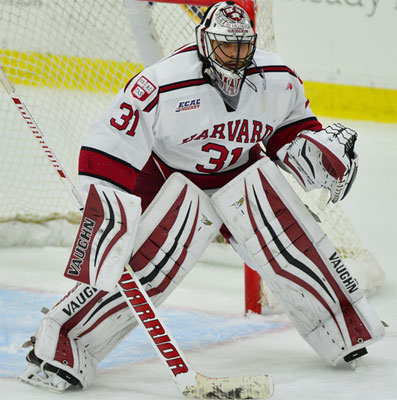 Atlantic Hockey Goalie of the Week: Charles Williams, Canisius (Owatonna Express)
Williams stopped 63-of-64 shots faced in leading Canisius to a three-point weekend at home against AIC. He turned aside all 24 shots faced in 4-0 victory to record his second shutout of the season in the series opener. Williams made 39 stops in the series finale to help Griffs record a 1-1 tie and move into a tie for second place in Atlalntic Hockey. Saturday's performance marked seventh time this season Williams has finished with 30 or more saves in a contest.
ECAC Goalie of the Week: Merrick Madsen, Harvard (Minot Minotauros)
Junior goaltender Merrick Madsen has been named the ECAC Hockey Goaltender of the Week, as announced by the league office Tuesday. The award is the first such honor for Madsen and the first weekly award bestowed upon a Harvard student-athlete this season. Going up against No. 3/3 Boston College, Madsen stopped a season-high 33 shots to help lift the Crimson past the Eagles, 5-2, last Friday. The win was the fifth of the year for Madsen and Harvard and was also the fifth time Madsen has held an opponent to two goals or less this year.
Hockey East Co-Defensive Player of the Week: Stefanos Lekkas, Vermont (Springfield Jr. Blues)
Stefanos Lekkas (Elburn, Ill.) Went 2-0-1 in three starts to continue his hot start to his career, stopping 92 of 98 shots, including a career high 36 in a 6-2 win over Maine. His diving glove save in the third period Saturday also made an appearance on SportsCenter's Top 10 plays.
Hockey East Co-Defensive Player of the Week: Collin Delia, Merrimack (Amarillo Bulls)
Collin Delia (Rancho Cucamonga, Calif.) stopped all 33 shots he faced to backstop the Warriors to a 2-0 shutout win at Wisconsin, his first appearance in 11 games due to injury.
NCHC Offensive Player of the Week: Matheson Iacopelli, Western Michigan (Springfield/Texas)
Iacopelli continued his strong season, totaling four points against Air Force. In Friday's 5-5 overtime tie, the Chicago Blackhawks prospect dished out the primary assists on WMU's first two goals in the first period, while putting six shots on goal. The next night, Iacopelli logged his fourth multi-goal game this season with a pair of even strength goals, including his first goal serving as the game-winner, which broke a 1-1 tie in the second stanza. He put eight shots on goal and logged a plus-2 rating as he was named the game's First Star in the 4-1 win. Iacopelli finished the series with two goals, two assists, a plus-3 rating and 14 shots on goal. He ranks second in the NCAA this season with 12 goals.
NCHC Defensive Player of the Week: Tucker Poolman, North Dakota (Wichita Falls Wildcats)
Poolman guided North Dakota to its first sweep at St. Cloud State in 18 years, tallying three points while helping pitch a pair of shutouts. In Friday's 4-0 victory, the assistant captain had the lone assist on UND's second goal, which came in the second period. He also fired six shots on goal and posted a plus-1 rating in the win. The next night, Poolman recorded a multi-point game, handing out the primary assist on the Fighting Hawks first goal, which came on the power play in the first period and was the game-winning goal. The Winnipeg Jets prospect then scored UND's second goal in the 3-0 whitewash and had another plus-1 rating to earn Second Star of the Game. Poolman finished the series with a plus-2 rating, eight shots on goal, a blocked shot and anchored a penalty kill unit then went 8-for-8 on the weekend (4-for-4 each night).
WCHA Defensive Player of the Week: Jason Pawloski, Minnesota State (Austin Bruins)
Pawloski helped Minnesota State rise to No. 14 in the national polls, backstopping the Mavericks to a home-and-home split with then-No. 7 Minnesota. The sophomore from Omaha, Neb. made 62 saves and led all WCHA goaltenders last weekend with a .969 save percentage (seventh in the NCAA) and a 1.01 goals-against average (10th nationally). Pawloski made 25 saves in the Mavericks' 4-1 home win Friday night, while allowing only a power-play goal. He then stopped a season-high 37 shots Saturday in a 1-0 loss, keeping Minnesota State in the game despite being out-shot by a 38-23 margin. Pawloski's effort at Mariucci Arena included 30 saves in the first two periods alone.
WCHA Rookie of the Week: Justin Kapelmaster, Ferris St. (Wichita Falls Wildcats)
Kapelmaster remained unbeaten in his rookie campaign, making a WCHA-high 73 saves as Ferris State notched its first sweep of the year with two home wins over Lake Superior State. The freshman from Coral Springs, Fla. notched his first collegiate shutout Friday night (one of only two nationally by a rookie goaltender), turning aside a career-best 40 shots in a 3-0 Bulldog victory. He reached double-digits in saves each period, stopping 13 in the first, 12 in the second and 15 in the third. Kapelmaster than made 33 saves Saturday night, including 13 in the third period, helping Ferris State hold on for a wild, 7-5 win and the sweep. This is Kapelmaster's second WCHA weekly award of his rookie season.