Bismarck goalie Ulrich makes NCAA DI commitment
November 18, 2016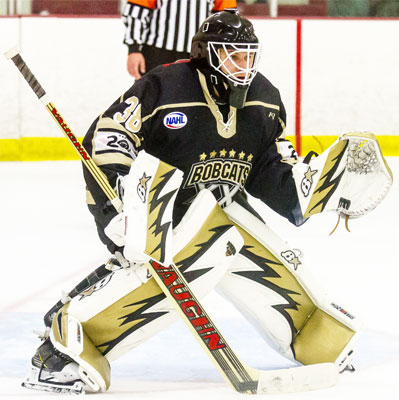 By Paul Teeple, Bismarck Bobcats
NAHL and Bismarck Bobcats goalie Will Ulrich has announced that he has committed to play NCAA Division I hockey at the United States Air Force Academy, starting in the fall of 2017.
"I'm very excited to know where I'll be playing hockey next year, and proud that it will be at Air Force," stated Ulrich, playing in his final year of junior eligibility as a 1996 birthyear. "It's an honor to be able to play hockey for one of our country's military academies. It's also great to be able to focus entirely on this season and helping the Bobcats win now."
A second-year NAHL veteran, Ulrich is 7-7-1 to start the 2016-17 campaign with a 3.17 GAA and a .913 SV% in net for the Cats.
The Birmingham, Michigan, native recently toured the Air Force Academy campus in Colorado Springs, where he got a chance to interact with Bobcat alumni Evan Giesler (2012-15) and Joe Tyran (2014-16) and get a little guidance on his collegiate decision.
"Talking to Evan and Joe, they were able to explain not only what the program was about, but also lay out the expectations for being a cadet at Air Force," recalled Ulrich, who came to the Bobcats in a 2016 offseason trade from the Minnesota Magicians. "It's not for everyone, but talking to them, I knew I was ready for the challenge."
Under the direction of long-time head coach Frank Serratore, the Falcons are a consistent power in the Atlantic Hockey Association--having appeared in the National Tournament five times since 2007; going as far as the regional finals in 2009.
Ulrich is the third member of the current Bobcat roster to commit to a D-I program, joining Nick McKeeby (Western Michigan) and Matt Barry (Holy Cross).
His commitment also makes 2016-17 the 12th straight Bobcat team to have at least one of its goalies commit to a Division I program, joining: Tim Krystosek (2005-06, 2006-07, Air Force); Jake Kremer (2007-08, Minnesota); Matt Grogan (2007-08, 2008-09, UConn); David Bosner (2008-09, Air Force); Ryan Faragher (2009-10, 2010-11, St. Cloud State); Ryan Massa (2009-10, Nebraska-Omaha); Jake Williams (2009-10, Mercyhurst); Tommy Burke (2010-11, 2011-12, Bowling Green); Aaron Nelson (2011-12, 2012-13, 2013-14, Minnesota State); and Hunter Shepard (2014-15, 2015-16, Minnesota-Duluth).