NAHL, NA3HL halfway through Movember campaign
November 16, 2016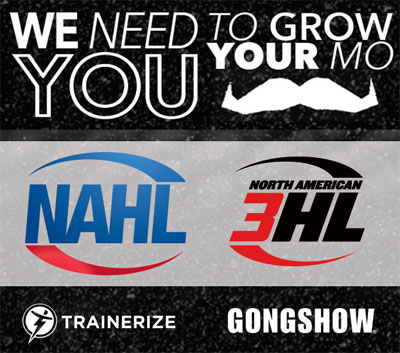 The month of Movember is halfway done.
By now, the mo's (mustaches) on players from players in the North American Hockey League (NAHL) and North American 3 Hockey League (NA3HL) are filling in quite nicely.
Both leagues will have reunited under one campaign with all 24 NAHL teams, and 48 NA3HL teams, to generate awareness and funds for men's health. The NAHL/NA3HL Movember campaign is all about bringing back the moustache, having fun and doing it for a serious cause; men's health, specifically prostate and testicular cancer initiatives.
In spirit of friendly competition, the NAHL and NA3HL teams will be competing against each other, but this time they'll be off the ice. Each team and individual will be squaring off to raise funds in the name of men's health. Partnered with league sponsors Gongshow Gear and Trainerize, the team that donates the most funds through their Movember campaign will win a team prize package from Gongshow Gear. Trainerize is all about men's health, empowering coaches to be closer to athletes anytime, anywhere. Trainerize makes it possible for coaches to track team performance and motivate athletes in a revolutionary new way. An individual winner will also be named in each league.
Last season, the NAHL's Wilkes-Barre/Scranton Knights earned the 2015 Movember title for raising the most funds for men's health, by gathering a total of $1,011 dollars. In the individual player category, Minnesota Wilderness goalie Chase Munroe raised the most funds of any NAHL player in the 2015 with a total of $575 dollars. In 2nd place was Wilkes-Barre/Scranton Knights forward Aiden Beck with $375 dollars.
Here is how it works… as the official rules of Movember state, all Mo Bros (NAHL & NA3HL players), once registered, must begin clean-shaven on the 1st of Movember and grow just a moustache (no beards, no goatees) for the 30 days of November. For the rest of the month, these selfless and generous men groom, trim and wax their way into the annals of fine moustachery. Also supported by the women in their lives, Mo Sistas, the NAHL/NA3HL and their Movember Mo Bros raise funds for awareness for their Mo-growing efforts. Mo Bros effectively become walking, talking billboards for the 30 days of November.
By joining one of the NAHL/NA3HL teams, fans will automatically be a part of their team's Movember Network page, which is a great way to keep up to date with the other Movember Moustache merchants. Fans are also encouraged to tweet pictures of their Mo's (mustaches) to
@NAHLHockey
and
@NA3HL
Participation is really simple - men and women register at Movember to grow or support the Mo. Once registered, Movember participants recruit friends, family and colleagues to donate to their Mo- growing efforts. Since the beginning of the initiative began in 2003, at total of 5,232,625 Mo Bros and Mo Sistas have signed up and over $710 million dollars have been raised to fund 1,200 different men's health projects. The Movember Foundation was recently ranked #55 out of the top 500 NGOs (non-governmental organizations) in the world. In 2015, the campaigned spanned over 21 participating countries: Australia, Austria, Belgium, Canada, Czech Republic, Denmark, Finland, France, Hong Kong, Germany, Ireland, Netherlands, New Zealand, Norway, Singapore, South Africa, Spain, Sweden, Switzerland, UK and USA.