NAHL announces Bauer Divisional Stars of the Week
November 14, 2016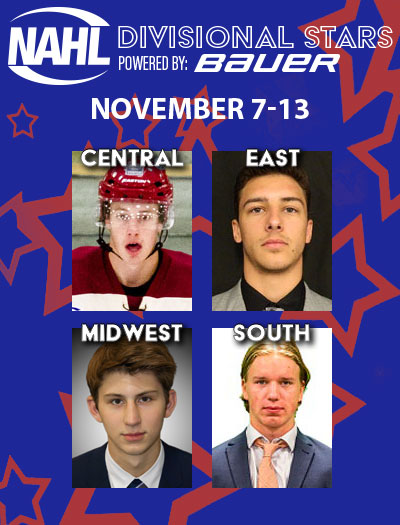 The North American Hockey League (NAHL) today announced the Divisional Stars of the Week presented by Bauer Hockey for the week ending November 13, 2016. The Bauer Hockey Divisional Stars of the Week is a weekly feature during the 2016-17 regular season that honors the top performing players in each of the four NAHL divisions. Only players that are nominated by their respective teams are considered for the Divisional Players of the Week award.
Central Division Star of the Week: Reid Stefanson, forward, Minot Minotauros
It was a busy a productive week for Minot forward Reid Stefanson, 19, this past week as the native of Winnipeg, MB, helped the Minotauros to a 2-1 record in three games. Stefanson (6'0/174) recorded nine points (6 goals, 3 assists) in the three games and had multi-point outings in all three games. On Thursday, he had two goals and an assist in a 5-4 home loss to Bismarck. The next night, he recorded a goal and an assist in a 6-4 win over the Minnesota Wilderness. On Saturday, Stefanson had a hat-trick, including the game-winning goal, and an assist in a 7-4 win in Aberdeen. He has 20 points in 19 games this season, which ranks 2nd in scoring on the team. "Reid and his linemates had an exceptional weekend and were a constant threat in all three games. Reid is really coming into his own and feeling more comfortable everyday. His hockey sense and creativity allow him to be dangerous at all times," said Minot head coach Marty Murray.
2nd Star: Alex Adams, F, Minot Minotauros
Honorable Mention (alphabetical): Cade Borchardt, F, Brookings Blizzard – Tobias Fladeby, F, Bismarck Bobcats – Jordan Fralich, D, Bismarck Bobcats – Tim Nicksic, F, Minnesota Wilderness – Dan Petrick, D, Austin Bruins – Joey Strada, F, Aberdeen Wings – Tyler Vold, D, Minnesota Wilderness
East Division Star of the Week: Greg Malafronte, forward, New Jersey Titans
New Jersey forward Greg Malafronte, 19, continued his hot play during New Jersey's sweep of the Northeast Generals this past weekend as the 5'9/155 lbs. native of Colts Neck, NJ, had five points (1 goal, 4 assists) in the two wins. On Friday, Malafronte had a shorthanded goal and added two assists in a 5-4 win. On Saturday, he added two more assists in a 5-2 win. Malafronte is currently tied for 2nd place in team scoring with 16 points in 17 games. "Greg has had a really nice start to his season despite missing a few games with an injury. His ability to be lethal in the offensive zone has been key for our team. He has shown an ability to create offense both in 5-on-5 situations as well as the power play. Greg's ability to score will be an asset for a great college hockey program. He has asserted himself as a leader on our team and we look forward to him continuing to lead our club towards the playoffs," said Titans head coach Craig Doremus.
2nd Star: Brennan Kapcheck, D, Aston Rebels
Honorable Mention (alphabetical): Mareks Mitens, G, Aston Rebels
Midwest Division Star of the Week: Evan Fear, goaltender, Springfield Jr. Blues
The Springfield Jr. Blues picked up two big wins in Fairbanks this weekend against the Ice Dogs and backstopping the Jr. Blues was 17-year-old Evan Fear. The rookie netminder from Winnetka, IL, faced a total of 66 shots in the two games and made 63 saves, allowing just three goals during the weekend. On Friday, Fear (6'2/175) made 36 saves in a 4-2 win and on Saturday, Fear made 27 saves in a 4-1 win. Fear has now won his last three starts and has improved his save percentage to 91.6%. "Evan was solid both nights making some key saves to give our guys a chance to win. He really stepped his game up as the games went along as was at his best in the 3rd periods," said Jr. Blues head coach Tony Zasowski.
2nd Star: Matt Long, F, Springfield Jr. Blues
Honorable Mention (alphabetical): Scott Corbett, F, Coulee Region Chill – Kevin Dineen, F, Coulee Region Chill – Aaron McPheters, D, Fairbanks Ice Dogs – John Siebenaler, F, Minnesota Magicians – Hunter Wendt, F, Fairbanks Ice Dogs
South Division Star of the Week: Aleksi Poikola, forward, Wichita Falls Wildcats
Wichita Falls leading scorer Aleksi Poikola, 20, came up big over the weekend as the Wildcats picked up a weekend home sweep of the Amarillo Bulls. The 5'11/185 lbs. native of Espoo, Finland, recorded three points (2 goals, 1 assist) in the sweep. On Friday, Poikola scored the overtime-winning goal and added an assist in a 3-2 win. On Saturday, he scored another goal in a 4-3 overtime win. For the season, Poikola leads all Wildcats players with 19 points in 16 games played. "Aleksi has made great strides this year and become a dominant player in this league. He plays just as hard in the offensive zone as the defensive zone and he is a very good all-around player with NCAA Division I potential," said Wildcats head coach Tony Curtale.
2nd Star: Jonny Hogue, G, Odessa Jackalopes
Honorable Mention (alphabetical): Camden Burggrabe, G, Corpus Christi IceRays – Gueorgui Feduolov, F, Shreveport Mudbugs – Jake Levin, D, Odessa Jackalopes – Jonathan Waring, D, Wichita Falls Wildcats – Eriks Zohovs, F, Shreveport Mudbugs