Blizzard edge Bruins in lone NAHL game on Sunday
November 14, 2016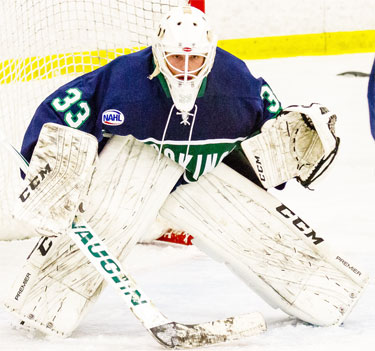 Austin Bruins 2 @ Brookings Blizzard 3 (SO) – The Brookings Blizzard picked up their second win of the weekend and fourth straight win overall as they edged the Austin Bruins, 3-2 in a shootout in the lone NAHL game on Sunday.
After a scoreless 1st period in which both goalies held steady, the Bruins got on the board first early in the 2nd period with a goal from Charlie Spetz, his second of the season. 10 minutes later, the Blizzard got the equalizer on Gunnar Goodmanson's second goal of the weekend and the season.
Early in the 3rd period, the Blizzard would regain their one goal advantage as Dan Petrick scored his 7th goal of the season. But, the Blizzard again fought back to tie the game at 2-2 as Chase Brand scored his 5th goal of the season halfway through the final period.
After a scoreless OT, Paul Cotter netted the lone goal in the shootout for either team as the fourth shooter for Brookings to earn the extra point.
Blizzard goalie Josh Boyko made 33 saves in the win and stopped all four Bruins players in the shootout, while Alex Schilling took the loss with 26 saves.