November 10, 2016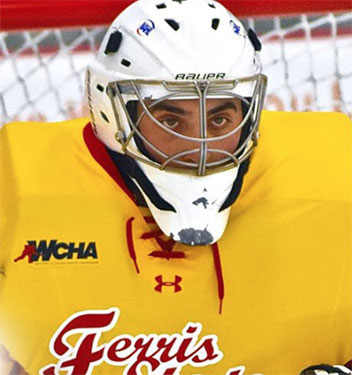 Atlantic Hockey Rookie of the Week: Luke Lynch, Robert Morris (Johnstown Tomahawks)
Lynch scored two goals and dealt two assists as Robert Morris handed previously unbeaten #11 Ohio State its first winless weekend of the season. In Saturday's 4-4 tie, Lynch scored his first collegiate goal on a penalty shot to make it a 4-3 game in the second period. Then with five minutes remaining and Robert Morris on a penalty kill, Lynch stole the puck and went all the way in to score the game-tying shorthanded goal. The Colonials took a 6-2 win in Columbus on Friday night, with Lynch chipping in two assists on the power play. Lynch is tied with teammate Alex Tonge at the top in points and goals per game in Atlantic Hockey last week, averaging two points and one goal per game.
Atlantic Hockey Goalie of the Week: Charles Williams, Canisius (Owatonna Express)
Williams, who had a total of 84 saves over the weekend, allowed only one goal in two victories over RIT. Williams earned his first shutout in Canisius Blue and Gold after he recorded 41 saves in a 1-0 victory Friday, with 21 of those stops coming in the game's third period. RIT, which entered the game ranked in the nation's top-15 in scoring with just under four goals per game, ended up being shutout in a regular-season game for the first time since falling at Air Force by the score of 4-0 on Feb. 6, 2016. In Saturday's 2-1 win, Williams, who ranked fifth in the nation in goals against average heading into the contest, tied a career high with 43 saves, with 15 saves during the third period to earn his fourth win of the year.
Big 10 #3 Star of the Week: Mike Szmatula, Minnesota (Traverse City North Stars)
Szmatula scored one goal and added two assists in Minnesota's win and tie against North Dakota. He also recorded a pair of assists in Friday's 5-5 tie, including setting up the game-tying goal late in the third period. He netted his first career game-winning goal as a Gopher on Saturday. This is his first career Big Ten weekly award.
NCHC Offensive Player of the Week: Matt Iacopelli, Western Michigan (Springfield/Texas)
Iacopelli had the best weekend of his Bronco career last weekend, totaling five points to power Western Michigan to a NCHC home-opening sweep of Miami. After tallying only one goal and seven points his freshman season, he exploded for four goals against the RedHawks and already has nine goals this season. In Friday's 6-3 victory, the Chicago Blackhawks draft pick tied a career high with three points, collecting the primary assist on the game-tying goal in the second stanza while adding WMU's final two goals in the third period, including one on the power play, to seal the comeback win. The next night, Iacopelli was just as dominant, burying two more goals in a three-minute span in the second period to break a 2-2 tie as his first goal was the game-winner in the 5-2 sweep-clincher. He was named the game's First Star both nights and posted a plus-2 rating on Saturday, which is how he finished the weekend. Iacopelli fired 11 shots on goal in the series as well, including six on Saturday.
NCHC Goalie of the Week: Trevor Gorsuch, Western Michigan (Michigan Warriors)
Gorsuch backstopped Western Michigan to a sweep of rival Miami over the weekend, picking up both wins in net for his first career back-to-back wins on a weekend while allowing five goals in the series. On Friday, he stopped 17 shots in a 6-3 victory. The next night he totaled 29 saves while giving up only two goals in a 5-2 win. Gorsuch also kept Miami's strong power play in check, helping kill off all 11 RedHawk man advantages in the game as he was named Third Star of the Game. He finished the weekend with a .902 save percentage, a 2.50 goals-against average and 46 saves on 51 shots faced.
WCHA Rookie of the Week: Justin Kapelmaster, Ferris State (Wichita Falls Wildcats)
After not playing in Friday night's series opener, Kapelmaster stepped between the pipes and backstopped Ferris State to a 3-1 win Saturday and road split at Bowling Green. The freshman from Coral Springs, Fla. notched his second victory in as many career starts, stopping 26-of-27 shots. Kapelmaster made 20 saves combined in the first and second periods as Ferris State built a 2-1 lead, then stopped all six Bowling Green shots in the final stanza as the Bulldogs held on for the two-goal victory. This is Kapelmaster's first career WCHA weekly award.
Former Texas Tornado (1999-2000) and current TPS Turku forward Dave Spina is having a great start to the season in Finland's top league (SM-Liiga). He's currently in 4th in total SM-Liiga scoring with 15 points (4 goals, 11 assists).