Bulls raise over $18k with jersey auction
November 9, 2016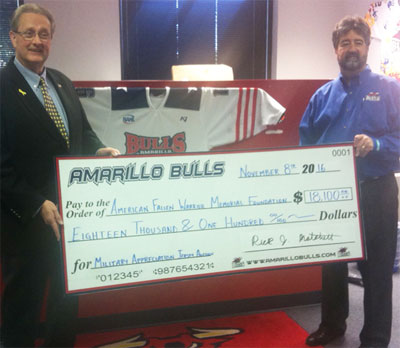 By Denis Puska, Amarillo Bulls
The NAHL's Amarillo Bulls jersey auctions have become synonymous with raising a lot of money for some amazing non-profit organizations in the Texas Panhandle in the past seven years.
For the first time the entire Bulls team wore military style jerseys for the 7th annual Military Appreciation Night Presented by Vista College. The post game jersey auction was another huge success as the team raised $18,100 for The American Fallen Warrior Memorial Foundation.
The highlight of the night was the final jersey which had #16 for Director Jack Barnes. That jersey raised $7,000 the most for any jersey not only in Bulls but Amarillo Hockey History. The mark eclipsed a record that was set by Paul Berrafato's jersey during the 2012-13 season.
"We are proud to be able to help out with such as good cause," said Vice-President/General Manager Rick Matchett. "We want to thank our players and great fans for stepping up and helping us Saturday night."
AFWMF Volunteer Gene Morrison said they greatly appreciate the support of the Bulls organization and the work they do in the community.
"Our organization speaks for those who cannot speak and we stand with their families," said Morrison. "What the work the Bulls and their fans did was outstanding. The Bulls are well known for the work they do in the community and having fans who support their efforts."
The Amarillo Bulls will have two more jersey auctions later on this season and details on them will be released at a later date.