New Jersey offense stays hot with win on Sunday
November 7, 2016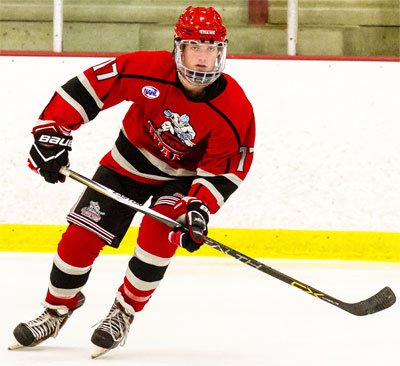 Johnstown 3 @ New Jersey 7 - The New Jersey Titans scored five power play goals in a 7-3 win over Johnstown Sunday afternoon at Middletown Ice World. Forward Nick Boyagian had a hat-trick in the win for the Titans.
Much like yesterday's contest the Titans would fly out of the gates scoring both goals to open the scoring.
William Riedell took advantage of a Tomahawks penalty and sent a wrist shot past Johnstown goaltender Drew Hotte for his third goal of the year. Later in the first period, Kyle Perkowski added to the Titans lead with a goal of his own at the 17:44 mark of the period.
After Perkowski was called for a major penalty, Johnstown would take advantage early in the second period. Tomahawks forward Nick bruce got Johnstown on the scoreboard with a power play goal at 1:31 of the second. His seventh goal of the season was assisted by Zak Galambos and Dalton Hunter. New Jersey would take another penalty immediately after the major call ended and once again the Tomahawks took advantage. The tying goal came off the stick of Galambos and his power play goal came unassisted. However, the Titans would rattle off three unanswered to close the second period with two goals from Nick Boyagian and a marker from Riedell.
In the third period, Johnstown cut the deficit to two goals when Hayden Rowan tipped an Adam Pilewicz shot past Titans goalie Brandon Perrone. New Jersey would put the game away with a hat trick goal from Boyagian and a power play goal from Greg Malafronte. Maxim Andreev picked up three assists for the Titans in the win
In the loss, Hotte's overall record move to 5-2-1 on the season. Perrone picked up his second straight win and improved his record to 2-0-0.