Corpus Christi goalie Vomacka heads to Five Nations Tournament
November 2, 2016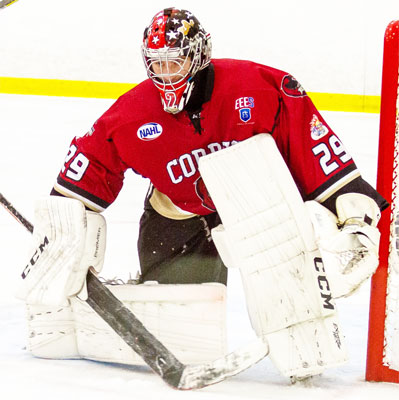 Corpus Christi IceRays and NAHL goaltender Tomáš Vomácka has been selected to represent the Czech Republic at the 2016 U18 Five Nations Tournament starting on Wednesday, November 2nd at USA Hockey Arena in Plymouth, Mich.
Vomácka, 17, is in his second tour of international duty this season after appearing in two games with the Czech Republic at the 2016 Ivan Hlinka Memorial Cup and taking gold over Team USA. The 6-foot-2, 165-pound netminder has played in international competition since the 2013-14 season, holding a 15-14-0 record in 29 games with a 3.00 goals-against average or less in each of his last two seasons with at least 10 games played as well as one shutout. He's the first IceRays player to go into international duty mid-season since defenseman Pierre Crinon in the 2014-15 season with Team France.
The Trutnov, Czech Republic product has appeared in 12 games with the IceRays this season, recording a 4-6-1 record with a 2.88 goals-against average and a .911 save percentage. He sits seventh in the NAHL in minutes played, tied for 15th in goals-against average and 18th in save percentage. Vomácka is currently listed on the 2016 NHL Central Scouting List as a "B" rated prospect ahead of the 2017 NHL Draft in Chicago, Ill. He was one of 12 NAHL players on the list.
"It's always hard to let one of your top players leave and miss games during the season, but it's also an honor for our organization to have a player of that caliber," said IceRays General Manager Pat Dunn. "This tournament will provide Tomáš with huge exposure after already being named to the NHL Central Scouting List. On a more personal note, it's always a proud moment to represent your country in an international competition and to reunite with your fellow countrymen."
The U18 Five Nations Tournament, hosted by USA Hockey and beginning in 2008, is a five-day tournament with five different countries from around the world competing in a four-game exhibition. The annual tournament moved to the Fall in 2015 and pits Team USA, the Czech Republic, Finland, Sweden and Switzerland against each other for the second-straight year. Last year, Team USA came away as victors staying undefeated in all four games including a 3-1 win over Team Czech Republic in game one.
Team Czech Republic begins their tournament schedule this afternoon at 3:30 p.m. against Switzerland. All games at the 2016 U18 Five Nations Tournament can be viewed live on Hockey TV. Team Czech Republic and Team USA will play on Friday, Nov. 4 at 7:00 p.m. in a rematch of the Ivan Hlinka Memorial Cup Final.