Aston defenseman Jansons makes NCAA DI commitment
November 2, 2016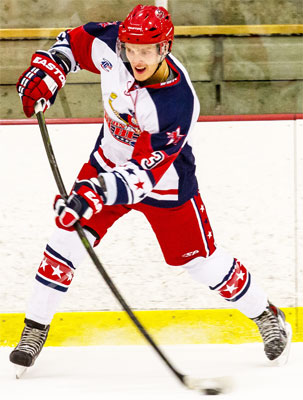 The Aston Rebels, proud members of the North American Hockey League (NAHL), are pleased to announce that defenseman Gvido Jansons has committed to play NCAA Division I Ice Hockey for the Arizona State University Sun Devils, who are currently an independent team but will be part of conference in the next two years. His commitment begins in the fall of 2017.
Jansons, 19, has played in all 17 games this season having 14 points (five goals and nine assists). He was voted the NAHL's East Division's second star of the week for weekending October 9. Last season Jansons had a total of 20 points (seven goals and thirtheen assists). He is an excellent teammate and has an impeccable work ethic. He has a howitzer of a shot from the point. The left-handed shooting forward is from Riga, Latvia.
Jansons is in his second season playing in the NAHL. Last season, he was named to the NAHL East Division All-Rookie Team and played for the NAHL Selects Team at the 2016 NAHL Top Prospects Tournament.
"I would like to thank my family for all of their support throughout the years" stated Jansons. "It is because of their sacrifices I am where I am. I also would like to thank all of my teammates and coaches, particularly head coach Joe Coombs and the entire Rebels organization for all of their support these past two years" concluded Jansons.
"I am very happy for Gvido" said Rebels head coach Joe Coombs. "He has been a solid part of our organization for two years. He has an impeccable work ethic is a relentless worker. ASU is getting a great person and player" stated Coombs.
Arizona State University is located in Tempe, AZ. The Sun Devils are one of only two NCAA Division I ice hockey programs that are located in the southern part of the United States.