Beyond Sports: Anderson's shutout on Sunday was inspiring
October 31, 2016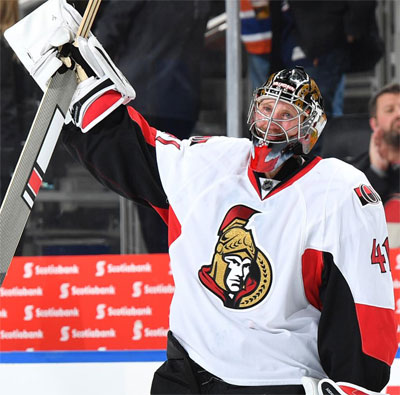 Sometimes things happen in sports that transcend anything to do with competition or a result and such was the case on Sunday night as NAHL alumni and current Ottawa Senators goalie Craig Anderson. On an emotional night at Rogers Place in Edmonton, Alberta, the Ottawa Senators rallied around their veteran goaltender.
In his first game back from a leave of absence to be with his wife Nicholle, who was recently diagnosed with cancer, Anderson made 37 saves to lead the Senators to a 2-0 win against the Edmonton Oilers.
It was an incredible performance at the most difficult time and it not only earned Anderson his 35th career shutout, but it also got a big two points for the Senators. Anderson was named First Star for his performance against the Oilers and was visibly emotional when he came out to salute the crowd after the game.
Oilers goalie Cam Talbot, who made 20 saves and was named the game's Second Star, waited for Anderson at the bench to express his support for the fellow goaltender.
"The hockey community is a big one and, you knew those guys were going to rally around him in a game like that," Talbot said. "It was an emotional game and we knew they were going to play hard tonight. They played a heck of a game, and he played a [heck] of a game himself. I can't even imagine what was going through his mind. I don't know if I would be able to do what he just did right now. We send our thoughts and prayers to him and his family."
Anderson left the Senators on Thursday to be with his family in Florida. He made 22 saves in a 3-0 win at the Vancouver Canucks on Tuesday. He has not allowed a goal in 121 minutes and 57 seconds. He then returned to the Senators after goaltender Andrew Hammond sustained a lower-body injury in a 5-2 loss at the Calgary Flames on Friday.
Anderson, 35, played in the NAHL for his hometown Chicago Freeze during the 1998-99 season. He played in 14 games that season and posted a goals against average of 2.86. Later that season, he was called up to OHL to play for the Guelph Storm and was later selected by the Calgary Flames in the 3rd round of the 1999 NHL Draft.
Senators coach Guy Boucher became emotional discussing his goaltender's performance.
"That was very special. I think it was special for our goaltender and his family, his wife, our players and I really respected the fact the Oilers organization, their players and their fans showed a lot of respect and support," Boucher said. "We love hockey, it's a great game, but there are things that are bigger and I think there's a lot of people that showed that tonight.
(contributing story items by Derek Van Diest / NHL.com Correspondent)