Watch Now: NAHL Alumni Series, Connor Hellebuyck
October 27, 2016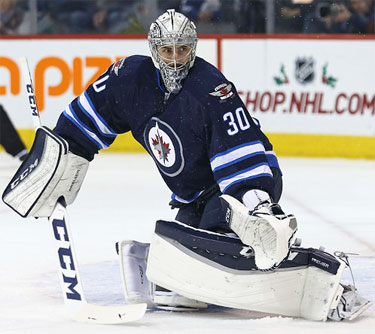 In a new video series for the 2016-17 season, the North American Hockey League (NAHL) is please to feature their extensive list of alumni in the NHL, NCAA and beyond in a new series entitled the NAHL Alumni Series.
The NAHL Alumni Series will be a regular video segment that highlights an alumni of the NAHL, who are currently playing in the NHL, NCAA or elsewhere as we try and catch up with their current situation, as well as, take a look back during their time playing in the NAHL.
This week, we caught up with former NAHL and Odessa Jackalopes goalie Connor Hellebuyck, who is currently one of the two goalies playing for the Winnipeg Jets in the NHL.
Since his arrival in the NAHL back during the 2011-12 season, Hellebuyck, 23, has been on a meteoric rise all the way to the NHL.
Hellebuyck began his junior hockey career with the NAHL with the Odessa Jackalopes in 2011-12. The Commerce, Michigan native won 26 of the Jackalopes 27 overall wins that season, and propelled the Jacks to a playoff berth in their first season in the NAHL. Hellebuyck raked in the hardware that year as well. Hellebuyck was named Goaltender of the Year, Rookie of the Year, All-NAHL First Team, All-South Division Team, and NAHL All-Rookie Team during that storybook season. Hellebuyck was also the Jackalopes first ever Division I college commit, signing his letter of intent to play at UMass-Lowell.
Following his lone NAHL season in 2011-12, he was selected by the Jets in the 2012 NHL Draft in the 5th round, #130 overall.
In 2012-13 during his freshman season at Lowell, Hellebuyck led his team all the way to a Frozen Four appearance before falling to Yale in the National Semifinals. In his freshman season, Hellebuyck set UMass-Lowell single-season records in both save percentage (.952) and goals against average (1.37).
In his sophomore season in 2013-14, Hellebuyck was the inaugural Mike Richter Award winner as the top goaltender in college hockey. He was also named to the All-Hockey East First Team, and the Hockey East All-Tournament Team. Hellebuyck was named an AHCA All-American in his second season with the RiverHawks.
In the spring of 2014, Hellebuyck decided to forgo his final two seasons at UMass-Lowell and signed a three-year entry-level contract with the Jets.