Knights win in New Jersey on Wednesday afternoon
October 19, 2016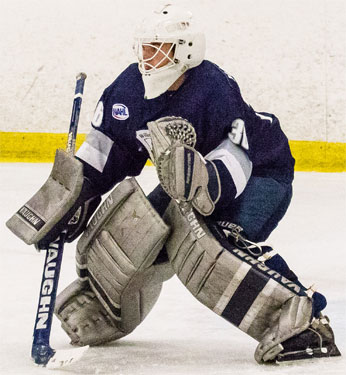 Wilkes-Barre/Scranton 6 @ New Jersey 2 – Facing 50 total shots through 60 minutes of play, Wilkes-Barre/Scranton's goaltender Grant Valentine stood tall in net to help the Knights hold off the New Jersey Titans on Wednesday afternoon.
The 19-year-old from Medina, Ohio allowed just two goals, while his team rallied off his energy to put six goals in on the opposite end of the ice. Valentine finished the contest with a .960 SV%, earning him second star of the game.
Scoring came from a variety of the Knights in their victory, as Jimmy Elser, Markuss Komuls, Matt Kidney, Khristian Acosta, Dorian Dawson and Andrew Jackson each found their way on the score sheet. Paving the way in points was Matt Kidney, who registered a goal and two assists to earn first star of the game.
New Jersey made sure to find the back of the net as well, with Anthony Cusanelli and William Riedell both earning credit for goals. Harrison Feeney and Brandon Bussi split duties in net for the Titans, letting in 3 goals each. Combined, the duo made 23 saves.
The Knights victory had some noteworthy implications in the East Division standings for both teams. With the Titans continue to sit in a tie for second place with Johnstown at 19 points each, Wilkes-Barre/Scranton was able to grab the two points in their win, bringing them within closer reach to New Jersey. The Knights now have 12 points in the East Division standings, and sit in fourth place.
The teams will rematch on Saturday night, as Wilkes-Barre/Scranton will visit New Jersey once again, following a Friday night contest with the Aston Rebels. The game can be viewed live via HockeyTV.