Brahmas complete three-game sweep on Sunday
October 17, 2016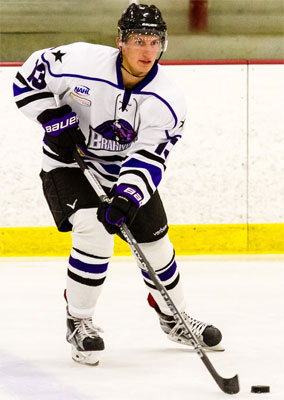 Lone Star 3 @ Amarillo 2 - Tight checking, close quarters, one-on-one battles. It was something that was on display for all three games between the Amarillo Bulls and the Lone Star Brahmas. For the third straight game, the result was in doubt until the late in the game, but the Lone Star Brahmas edged out a 3-2 win on Sunday. Lone Star extended its first place lead to three points over the 2nd place Bulls and Odessa Jackalopes.
Hunter Stanley scored twice for the Brahmas, including the game winner with less than 7 minutes remaining in regulation time in the third period. Carson Kelley had the other goal for Lone Star. Brendan Walkom and Hayden Broomhead notched goals for the Bulls. Alec Calvaruso made 20 saves in the win, while Nikita Babintsev took the loss in goal stopping 27 of 30 shots he faced.
It was an evenly played and tight checking first period between the Amarillo Bulls and the Lone Star Brahmas. The Bulls came close several times to getting on the board but were denied by goaltender Alec Calvaruso. Jonathan Dagnal and Alex Truscott were stopped on great attempts as was George Mika. The Brahmas opened the scoring with three minutes left in the stanza when Carson Kelley scored at the side of the net when the put went off of two Bulls sticks and right to the Brahmas player. Lone Star outshot Amarillo 11-8.
The Bulls worked hard and tied the game up 61 seconds into the middle stanza. Brendan Walkom brought the puck in from the blue line and his shot was stopped by Calvaruso. Several players converged on the front of the net and Hayden Broomhead was there to nudge the puck across the goal line with help from Bray Crowder. The rest of the period was spent by the special teams of both teams as a steady parade to the penalty box had both in power play and penalty kill mode. Lone Star outshot Amarillo 10-8 in the second period.
Lone Star regained a 2-1 lead in the third period on a power play goal from Hunter Stanley with help from Troy York and Simon Loof. Five minutes later, the Bulls power play clicked and Brendan Walkom scored on a sharp angle from Carson Moniz and Alex Truscott. The game remained tight down the stretch with the Brahmas gaining the lead for good when Stanley tipped home a shot from defenseman Blake Evennou. The Bulls pulled their goaltender in the final 70 seconds of regulation but were not successful in getting the equalizer. The Lone Star Brahmas outshot the Amarillo Bulls 30-21. There were 10 total power plays between the two teams with the Brahmas finding the net twice and the Bulls just once.