IceRays, Magicians win on Thursday
October 7, 2016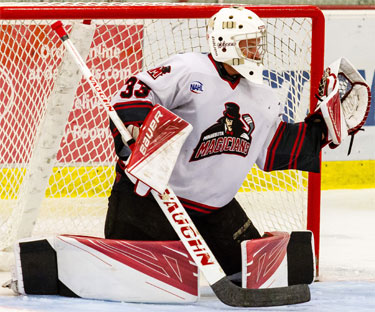 Janesville 1 @ MN Magicians 2 (SO)
– Jacob Dittmer outdueled Derek Schaedig in the shootout as the Minnesota Magicians picked up a 2-1 win at home over the visiting Jets. Dittmer picked up 1st star honors in the win, making 35 saves, while Schaedig made 27 saves in the shootout loss. All the scoring in regulation was done in the 2nd period as Nathan Nelsen scored his 3rd goal of the year to put the Magicians up 1-0. The Jets answered four minutes later with Chris Dodero's first goal of the season. The shootout winner came from Jake Cass.
Boxscore
Corpus Christi 4 @ Topeka 3
- The Corpus Christi IceRays (3-3-0-2) held on in the third period to claim a 4-3 win over the Topeka RoadRunners (4-6-0-0) on Thursday night at the Kansas Expocentre. IceRays forward Andy McGlynn (10:44 1st) opened the scoring with a third chance play off two rebounds right by the RoadRunners net to edge the road side ahead, 1-0. The RoadRunners pushed momentum back into their favor and equalized at 17:22 when forward Andrew Hart's shot slipped through the pads of IceRays goaltender Tomáš Vomá?ka to tie the game, 1-1. With Vomá?ka pulled for the extra skater on a delayed RoadRunners penalty at 8:33, Topeka defenseman Jake Rosenbaum blocked a shot from his own blue line that slid back into the IceRays net, which gave Topeka the 2-1. On Rosenbaum's ensuing penalty, IceRays forward Nathan Bryer received a back door pass from forward Mason Krueger and slipped it into the net at 9:36 to even the scoring, 2-2. Bryer cashed in again at 12:51 when a centering pass tipped off a RoadRunners defenseman and into the net, pushing the IceRays back on top 3-2. Late in the frame at 19:43, Hart earned his second of the night for the RoadRunners, who once again sent the game even, 3-3. Only one goal stretched across in the third period, and it was McGlynn to pick up his second of the night at 3:04 with a shot from the high slot to nudge the IceRays back ahead, 4-3. Despite pace picking up from Topeka and a pulled netminder, the IceRays were able to hang on 4-3 over the RoadRunners. Vomá?ka (3-3-1) earned the win, stopping 28 of 31 shots, while RoadRunners goaltender Ryan Snowden (2-3-0) picked up the loss, halting 27 of 31 shots.
Boxscore