Jackalopes take down Wildcats on Sunday, 7-2
October 3, 2016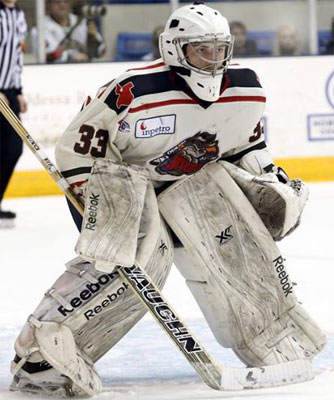 Odessa 7 @ Wichita Falls 2 - The Wildcats' 24-game point streak at Kay Yeager Coliseum Sunday night, as the Odessa Jackalopes cruised past them for a 7-2 victory.
Despite having Head Coach Tony Curtale and veteran defenseman Domantas Cypas back, the Cats got off to a very slow start. Odessa killed off an early Wichita Falls power play convincingly, just before Nick Klishko and Jake Levin were sprung on a 2-on-1 break. Klishko fed a diagonal pass to Levin, who tucked home the shot for his third goal of the season to give the Jackalopes an early lead. Two minutes later, Brandon Krumpschmid stuffed home a point-blank shot to give Odessa a 2-0 edge.
It was a difficult game for Wildcats goaltender Austin Smith to be making his debut with the team, as he faced numerous odd-man rushes and quality scoring chances to start the game. However, at the 10:02 mark of the first period, Ilya Skvortsov got the crowd roaring with a powerful snap shot from the right circle to cut the Jacks' lead to one. However, the Jacks would answer on their first power play of the game after Christian Hausinger swatted home a rebound past Smith to reinstate a two-goal Odessa lead.
The second period can only be described as a frenzy. After Chase Thudium potted a fourth Jackalopes goal, things got rough. Steven Tillie would bring the Cats to within two on a wraparound for his second goal of the season.
The Wildcats did not have enough juice to continue chipping away at the Jackalopes' lead. Three unanswered goals scored by Chris Donaldson, Hausinger, and Thudium would put the Wildcats away in the final 20 minutes. Odessa's victory was its first at Kay Yeager Coliseum in over two years.
Smith stopped 7 of 10 shots in his Wildcats debut, while Evan Moyse came in relief to deny 11 of 15. Odessa's Jon Flakne made 28 saves on 30 shots, earning his second win of the season.