Game On! Mudbugs open NAHL era at home on Thursday
September 29, 2016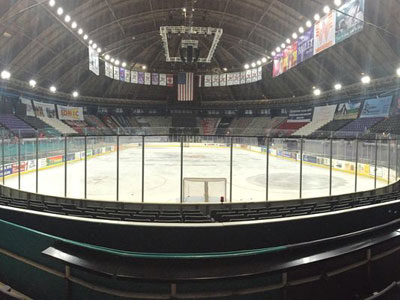 By Roy Lang III, Shreveport Times
Hockey is back in Shreveport.
It's a new brand, a renewed building, but the same ol' Mudbugs spirit.
George's Pond at Hirsch Coliseum will be electrified with goal chants, flying crustaceans and fans dressed in teal and purple as the team makes a glorious return Thursday night against a familiar face.
"Dreams do come true; they are back," Shreveport's Trey Corley, a longtime Mudbugs fan, said.
The Shreveport Mudbugs and Lone Star Brahmas begin a doubleheader Thursday night in a North American Hockey League affair scheduled for a 7:11 p.m. faceoff.
When the Mudbugs franchise arrived in Shreveport 19 years ago, it was a member of the Western Professional Hockey League and featured professional players. The WPHL eventually merged with the Central Hockey League and the Mudbugs earned four championships (three WPHL, one CHL) before folding in 2011.
"The league has done a great job of advancing players, so that will be one of our main goals this season," Mudbugs head coach Karlis Zirnis said. "We as a coaching staff want to be sure we are following the lead of the other NAHL head coaches in their commitment towards advancement of their players. We are seeing more and more players from not only the United States, but from across the world come to the NAHL because it provides them with a great opportunity for advancement and development."
The Mudbugs' opening-night roster consists of 25 Americans, two players from Canada and three from Europe (all from Zirnis' homeland of Latvia).
Not that Thursday requires fuel for more excitement, but the return of Brahmas head coach Dan Wildfong won't hurt the atmosphere inside the renovated 62-year-old building.
"You wouldn't want to face anybody else," former Mudbugs player and current assistant coach Jason Campbell said. "Fonger is just a fierce competitor. A lot of people are going to want to see Fonger here. A lot of people are going to want us to beat his team, but there will probably be a few people pulling for Fonger.
"It couldn't be any better. He played a long time here. I believe he is instilling the values he learned here in his players."
While wearing No. 10, Wildfong collected nearly every all-time Mudbugs offensive record during his eight-year career along the Red River. He left the Mudbugs to coach the Fort Worth Brahmas, then a Central Hockey League rival, in 2007. The Brahmas switched to the NAHL in 2013.
Wildfong understands what's ahead for Shreveport and its fans.
"I'm excited for the people who didn't have hockey. I know they've missed it," Wildfong said. "The Mudbugs are off to a great start with recruiting. Zirny has built a great team. In the NAHL, there are more mistakes than in the pros, but the action is end-to-end and a lot more exciting."
Wildfong is excited to see the Hirsch's $2 million transformation. The last time he played in the building, he lifted the President's Cup following a 2000 championship.