New League Video: Made in the NAHL
September 15, 2016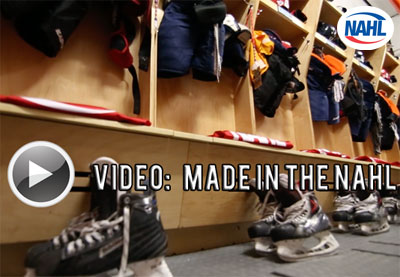 The North American Hockey League (NAHL) is pleased to present another NAHL TV exclusive video entitled 'Made in the NAHL." This is a follow up to the successful 'Character' video that was released in 2015.
On the heels of a record-breaking 2015-16 season, which saw a new record total of 259 NAHL players make an NCAA commitment, in addition to five NAHL players selected in the 2016 NHL Draft, the NAHL created a new video that talks about the process of developing and advancing to the next levels of hockey while playing in the league.
"As we enter our 41st season, there has never been a more opportune time to be involved with the NAHL. Last season, the NAHL set an all-time record of NCAA commitments during one season, further reinforcing that when it comes to players entering the league without a commitment, but earning one while they are playing in the league, there is no one better at it than the NAHL," said NAHL Commissioner Mark Frankenfeld. "This video is a testimonial to that and you hear that directly from our players and coaches who believe strongly in the league and its developmental process."
'Made in the NAHL' takes an in-depth look from a players and coaches perspective as to why the league keeps setting new NCAA commitment standards each season. You hear first hand how being in the NAHL has helped them develop and achieve their individual and team goals. Footage and interviews for the video were taken at the 2016 NAHL Top Prospects Tournament in Troy, Michigan and 2016 NAHL Robertson Cup in Edina, Minnesota and shot by videographer Matt Thiessen.
"I think for us as coaches, we have a passion for this. Our guys really care about the players and want to see them succeed. They are counting on us to help them reach their goals," said Johnstown Tomahawks head coach Mike Letizia. "Reaching out to the NCAA programs and staying in touch is instrumental in how we want to move our players on and find the right fit for them."
"The NAHL is a league of great caliber and it is an honor to be one of the head coaches," stated Minot Minotauros head coach Marty Murray. "I love to help the players on a day-to-day basis in achieving their goals. I think parents and players can feel comforted that they can go to any one of the 24 NAHL teams and know they have a great opportunity to develop and advance to the next level. The motto is the 'League of Opportunity' and it starts with events like the NAHL Showcase and continues with the NAHL Top Prospects and then the Robertson Cup, which caps off a great season of exposure."
Former Bismarck Bobacts goalie Hunter Shepard, who was the NAHL Goaltender of the Year and ultimately made an NCAA Division I commitment to the University of Minnesota-Duluth after playing in the NAHL Top Prospects Tournament, also shared his perspective of playing in the NAHL. "The NAHL is a good and tough league to play in and take that next step. I would have rather played junior hockey anywhere else and I have made lifelong friends there," said Shepard.