Bismarck forward Barry makes NCAA DI commitment
September 15, 2016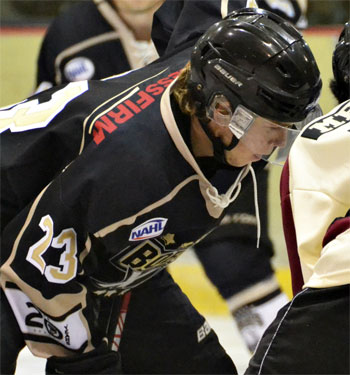 By Paul Teeple, Bismarck Bobcats
The Bismarck Bobcats, proud members of the North American Hockey League (NAHL), have secured their first college commitment of the 2016-17 season as forward Matt Barry has announced his intention to play NCAA Division I hockey for the College of the Holy Cross starting in 2018.
"It's a great feeling to know I'm committed and it's also a lot of pressure off, knowing that part is taken care of," stated Barry, a native of Naperville, Illinois. "Now I have a chance to focus on improving myself over the next two seasons and winning the Robertson Cup."
Barry, 19, played four games with the Bobcats in 2015-16 as an affiliate player. He signed onto the team full-time for 2016-17 via a tender agreement.
Crusaders head coach David Berard, entering his third season behind the bench in Worcester, was instrumental in bringing Barry aboard at Holy Cross.
"Coach Berard really has the program headed in the right direction and I wanted to be a part of that," added Barry. "And being able to play college hockey on the east coast—in Massachusetts—it's where I want to be."
Holy Cross plays in the American Hockey Association, where Barry will play against former Bobcats like Evan Giesler (Air Force), Jared Pike (American International), Patrik Demel (American International), Tanner Salsberry (Bentley) and Cody Boyd (Canisius).