Saturday Scores: Tomahawks pick up sweep
September 11, 2016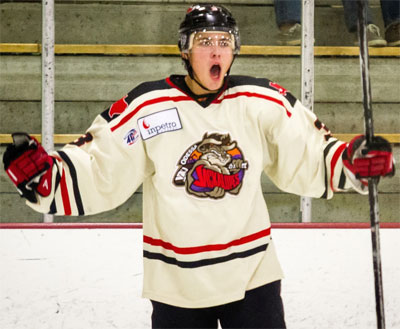 Johnstown 6 @ Wilkes-Barre/Scranton 4
- In a back-and-forth contest, the Johnstown Tomahawks used a four-goal third period to defeat the Wilkes-Barrre/Scranton Knights 6-4 at Revolution Ice Centre Saturday night. The Tomahawks cracked a scoreless tie midway through the first frame after Josh Norman collected a rebound and fired it past Knights goaltender Grant Valentine. Riley Doyon assisted on Norman's first of the season. With time ticking away in the first period, the Knights tied the game when Braden Brown one-timed a shot past Tomahawks goalie Vinnie Purpura. In the second period, the Knights would take the lead 2-1 after Matt Kidney fired a shorthanded goal. However, seconds later, Tomahawks forward Donovan Ott scored his second goal in as many nights to tie the game at 2-2. Wilkes-Barre/Scranton regained the lead with a Markuss Komuls power play goal to send both teams into the second intermission.The third period brought out the offense for both teams. Johnstown knotted the game once again three minutes into the third period. Dalton Hunter wrapped the puck around the net that squeaked past the pad of Valentine. The Tomahawks took the lead off a Nick Bruce goal but that quickly answered by Vincent Marino of the Knights to make it 4-4. Two minutes later, Hunter gathered a loose puck in the offensive zone, made a move around a Knights defenseman and wristed a shot glove side past Valentine to give Johnstown the 5-4 lead. The contest was put away with a Tommy Horn empty-net goal to set the final at 6-4. Purpura won his first start in the North American Hockey League stopping 40 of 44 shots in the victory. Valentine halted 22 of 28 Tomahawks volleys.
Boxscore
Odessa 6 @ Amarillo 2
- The Odessa Jackalopes made a strong statement in a 6-2 victory over the Amarillo Bulls in their season opener Saturday in Amarillo. Six different players found the back of the net for the Jacks including Jake Levin, Connor Stuart, Chase Thudium, Zach Heintz, Zach Zech and Bastien Maia. Nick Klishko, Nick Wilson and Thudium had two assists in the contest. Jonny Hogue made 33 saves for the win. For the Bulls, Kosta Likourezos scored both of the teams' goals. Kyle Madore was tagged with the loss as he allowed four goals in 22 minutes, 59 seconds, while Nikita Babintsev gave up two goals in the final 37 minutes.
Boxscore