24 in 24 Series: Johnstown Tomahawks
August 26, 2016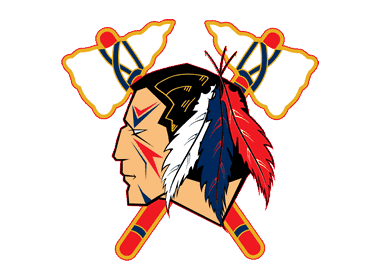 The 24 in 24 series features a look at all 24 teams in the NAHL for the 2016-17 season, with a new team being highlighted daily, leading all the way up until the start of the regular season. 24 in 24 looks into each NAHL team and will include video interviews with all 24 head coaches in the NAHL, as they provide fans with their expectations and outlook for the season, including taking a look at their strengths as a team and thoughts on the league. It will also take a look back on last season and how each team fared and what they accomplished.
Johnstown Tomahawks
Head Coach: Mike Letizia (3rd year)
2015-16 record: 31-24-5, 67 pts. (3rd in the East Division)
2015-16 leading scorer: Luke Lynch, Andrew Romano (56 points)
2016 Playoffs: Lost in the East Division Finals to Aston, 3 games to 0
2016-17 Division: East
First regular season game: Friday, September 9th @ Wilkes-Barre/Scranton Knights
Home opener: Friday, November 11th vs. Aston Rebels
The Johnstown Tomahawks are coming off of their best season in the four-year history of playing in the NAHL. The club won a team-record 31 games during the regular season, swept their East Division Semi-Final Series against #2-seeded New Jersey and then eventually lost in the East Division Finals to Aston. Maybe even more impressively was the Tomahawks leading all NAHL teams this past season with 18 NCAA commitments and they were backed by another impressive showing from their fans and community as they finished second in league-wide attendance.
"The big challenge for us was obviously replacing all the guys we lost to NCAA commitments from this past season. We had an older team last year and anytime you can send that many guys onto the NCAA, it is a good thing, but certainly presented some challenges for this year," said Tomahawks head coach Mike Letizia. "We want to make sure we are building each season. Last year was a big step forward, but we fell short of our final goal of winning our division and the competing for a chance to win the Robertson Cup. We want to be a team that is tough to play against each night and then develop to the point to get as many NCAA Division I commitments as we can."
While the East Division had an incredible 54 NCAA commitments this past year among just four teams, the 2016-17 season will see five teams in the division with the addition of the Northeast Generals in the suburban Boston area. Letizia said he welcomes the addition to build upon the buzz already generated on the East Coast. "People are seeing a totally new brand of hockey and the addition of another team just adds to the excitement. I think it speaks volumes to where we are as a division and as a league. There is nothing more satisfying that seeing a player earn an NCAA commitment. It is also a testimonial to the league and its staff that they are doing everything in their power to promote our players and grow the brand," said Letizia. "Expanding in the East also diversifies our schedule so that we aren't playing teams too many times in a season. The travel and competition among us is something that really stands out," said Letizia.
The Tomahawks schedule out of the gate will be very challenging as the team will be on the road for the first two months of the season, with the first home game not coming until November 11th. After two games at Wilkes-Barre/Scranton to open the season, the Tomahawks face Springfield, the Minnesota Wilderness, Austin and Shreveport at the Showcase. "We are getting better players and as a result we are coming right out of the gate with events like the NAHL Showcase and seeing players earn commitments. It is maximum exposure for the players and that's all you can ask for and it takes on a whole new level each season we go. It is an incredible event that has become a must-see for every scout," said Letizia.
Letizia continued… "We want to develop the right team culture. We are going to have a lot of new guys, so coming together early in the season will be important. We don't really have a choice to do anything else and I think being on road will help that," said Letizia. "We want to make sure guys are hungry to learn and to be successful. I wanted a skilled team, because I think you have to combine that with toughness if you want to be successful in this league. You have to play at both ends of the ice, you have to be a team-first type of guy and you have to give us your all every time you step onto the ice," said Letizia.
There is no doubt that one of the benefits of playing for the Tomahawks is playing in a town like Johnstown, who have a rich history and a tremendous fan following. "I think we do feel a certain challenge to win in front of our fans and that is a challenge that we welcome as a team. We welcome their passion they have as a community and the support they have given us. It is a big reason why this town was named as Hockeyville USA a few years ago and why we were second in overall NAHL attendance. There is a lot if history and I think that means something to our players," said Letizia.
Next up in the 24 in 24 series: Kenai River Brown Bears