24 in 24 Series: Fairbanks Ice Dogs
August 24, 2016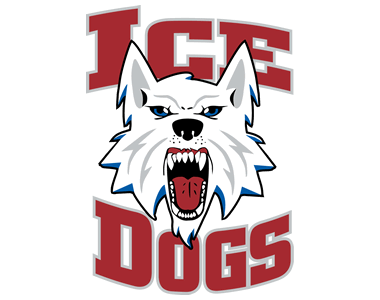 The 24 in 24 series features a look at all 24 teams in the NAHL for the 2016-17 season, with a new team being highlighted daily, leading all the way up until the start of the regular season. 24 in 24 looks into each NAHL team and will include video interviews with all 24 head coaches in the NAHL, as they provide fans with their expectations and outlook for the season, including taking a look at their strengths as a team and thoughts on the league. It will also take a look back on last season and how each team fared and what they accomplished.
Fairbanks Ice Dogs
Head Coach: Trevor Stewart (6th year)
2015-16 record: 49-8-3, 101 pts. (1st in the Midwest Division)
2015-16 leading scorer: Todd Burgess (95 points)
2016 Playoffs: Won the Midwest Division, won the Robertson Cup National Championship
2016-17 Division: Midwest
First regular season game: Thursday, September 15th @ Topeka RoadRunners
Home opener: Friday, September 30th vs. Johnstown Tomahawks
Call it a dream season, call it one for the record books, but everything that could have gone right, did go right for the Fairbanks Ice Dogs last season, who won their third Robertson Cup National Championship in the last six years and did so in record-breaking fashion. The Championship and numerous league honors and commitments put the Ice Dogs in rare territory in the 41-year history of the NAHL and now has all the inner workings and signs of a modern day dynasty.
The Ice Dogs set a new NAHL single-season record with 101 points and match an NAHL single-season record with 49 wins during the regular season. In the 72 combined regular season and playoff games the Ice Dogs played in last year, they never lost more than two in a row in regulation. The led the league in almost every major statistical category including goals for (4.18), goals against (1.93) and also had the league's best power play and penalty kill.
On top of the Robertson Cup title and the record-breaking statistics, the Ice Dogs were named the NAHL Organization of the Year, had the NAHL General Manager and Executive of the Year in Rob Proffitt and saw forward Todd Burgess, who led the NAHL with 95 points (the highest total since the 2006-07), named the NAHL's Most Valuable Player along with being selected by the Ottawa Senators in the 2016 NHL Draft.
13 of the Ice Dogs players from their Championship team last season made NCAA commitments, including nine NCAA Division I commitments. Not one to be easily satisfied, head coach Trevor Stewart said that it was an area that he felt the team could improve on. "It think the commitments is always something we can be pushing and getting better at. It will be a big focus for us heading into the 2016-17 season as we continue to strive for more advancement," said Stewart. "The NAHL is a strong, blue-collar type league and the players in this league work as hard as anyone to improve and develop to the point where they are considered an NCAA prospect. I would not be surprised if the league continues to improve its NCAA commitment numbers annually."
To begin the 2016-17 season, the Ice Dogs will face a difficult road test with a three-game road series in Topeka against the RoadRunners. From there, it is off to the NAHL Showcase, which was an event the Ice Dogs went undefeated at last season, which was a sign of things to come. The challenge at the annual event this year will be a tough one, which includes a game against Wichita Falls in a rematch of the Robertson Cup title game, along with games against Austin, Odessa and Minot. "The exposure and excitement for the players really makes the NAHL Showcase a one-of-a-kind event and it truly is a stepping stone to begin the season," said Stewart.
If there is motivation for the Ice Dogs and Coach Stewart it is that each time Fairbanks has won a Championship, they have yet to follow it up with a title the next season. The last team to win titles in consecutive seasons was the St. Louis Bandits, who won three straight from 2007-09. "We lost a lot of key guys, so we are going to be a younger team this season. With the recent success, we can't take anything for granted. We know we are going to have to outwork our opponents each night because we are going to get their best effort. We just hope to lay a good ground work for our players coming into training camp and then develop an identity from that," said Stewart. "I think it is important for us to get off to a good start. After that, the focus becomes the commitments and then just being there at the end to put ourselves in position to hopefully make a run at another title."
Stewart said that he has enjoyed his time in Fairbanks and that it is an experience that is unique for everyone involved. "We are kind of our own team up here because there isn't a lot around Fairbanks, but the atmosphere that is created at home by our fans is one that is incredible. They bring a certain passion that our players feed off of and everyone understands that we need one another to make it work like it has," said Stewart.
Next up in the 24 in 24 series: Janesville Jets