24 in 24 Series: Aston Rebels
August 18, 2016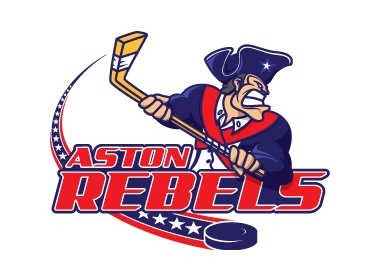 The 24 in 24 series features a look at all 24 teams in the NAHL for the 2016-17 season, with a new team being highlighted daily, leading all the way up until the start of the regular season. 24 in 24 looks into each NAHL team and will include video interviews with all 24 head coaches in the NAHL, as they provide fans with their expectations and outlook for the season, including taking a look at their strengths as a team and thoughts on the league. It will also take a look back on last season and how each team fared and what they accomplished.
Aston Rebels
Head Coach: Joe Coombs (4th year)
2015-16 record: 35-21-4, 74 pts. (1st in the East Division)
2015-16 leading scorer: Michael Merulla (55 pts.)
2016 Playoffs: Won the East Division title. Lost in the round-robin of the Robertson Cup Championships
2016-17 Division: East
First regular season game: Friday, September 16th at Northeast Generals
Home opener: Friday, September 30th vs. Northeast Generals
The Rebels are not only coming off an impressive debut in the Aston (Philadelphia) area last season, where they introduced, along with the rest of the East Division, a whole new level of junior hockey to the East Coast, but they also are coming off the best season in franchise history as they won the East Division regular season and playoff titles. That advanced the team to the Robertson Cup Championship, where they ultimately bowed out in the round-robin.
The Rebels also set a new standard for player commitment, as 15 players committed to play NCAA hockey throughout the 2015-16 season. Head Coach Joe Coombs said that the record-breaking amount of commitments for the Rebels and the NAHL has a lot to do with the direction the league is headed. "The league continues to keep setting the standard when it comes to advancing players and because of those numbers, we can truly say we are one of the best in junior hockey at committing our players to NCAA programs. It has everything to do with closing the gap and perception of our league. Everything in general keeps growing and getting better."
Coombs said that now that the East Division is a year older and one team deeper, it should make for an exciting 2016-17 season, exposing the NAHL competition and brand to scouts in the Eastern half of the United States. "I think our division will be better than it was a year ago, which includes the addition of another team (Northeast Generals). Every team learning something from Year One and is now better for it. I expect every opponent to be better. Everyone is well coached and every game will competitive night in, night out," said Coombs. "The NAHL is a league where you have to be on your toes for every game. The league grows and builds players and certainly the commitment numbers from this past season reflect that."
Coombs also stated that one of the many benefits for being part of the Rebels organization was the surrounding area, which is just half an hour from downtown Philadelphia, Pennsylvania. "It was quite the change from where the organization was down in the Rio Grande Valley in Southern Texas just over a year ago. There is so much to do in the area from pro sports, to arts, to entertainment and we are just a couple hours away from major cities like Washington DC, New York City and being right next to Philadelphia and the history associated with that city is a benefit for anyone associated with the Rebels organization."
Coombs said that for the 2016-17 season, he is looking for a team with more speed. "We want to be faster. We lost a lot of guys, but have a good core coming back and they are guys that do have some speed, but it was something we definitely wanted to address in the off-season," said Coombs. Aston will start with a pair of games against the expansion Northeast Generals to begin the season, and then it is off to the NAHL Showcase. "The Showcase has become the Superbowl of our league, it just happens to come first, but from a player's perspective it is a golden chance to make a first impression. The scouting world is there and guys will earn an NCAA opportunity because of what they do, so we will all need to put our best foot forward."
As for what Coombs wants to accomplish this season, he said that team identity is going to take some time. "I want us to be known as a hard working team and a team that is tough to play against. We want to be a physical, in-your-face team. We want to bring it to the player's attention to start the season and see what they can do the first month or so and then make some decisions from there. I thought it was a big step for us to make it to the Robertson Cup Championship last year because it gave us a taste of success and what we may need to do this year to actually win it, because that is the end result," said Coombs.
"I don't think we enter the season with specific goals. We just want to be the best we can be each day. It is about creating the right culture. You have to be good Monday through Thursday, so you can then be at your best on Friday and Saturday. We just want to follow a process and create the right culture," Coombs said.
Next up in the 24 in 24 series: Austin Bruins