24 in 24 Series: Amarillo Bulls
August 17, 2016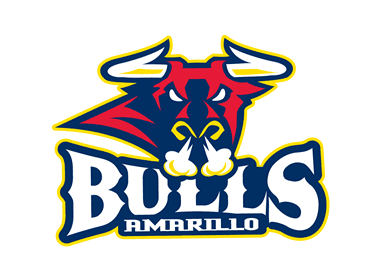 The 24 in 24 series features a look at all 24 teams in the NAHL for the 2016-17 season, with a new team being highlighted daily, leading all the way up until the start of the regular season. 24 in 24 looks into each NAHL team and will include video interviews with all 24 head coaches in the NAHL, as they provide fans with their expectations and outlook for the season, including taking a look at their strengths as a team and thoughts on the league. It will also take a look back on last season and how each team fared and what they accomplished.
Amarillo Bulls
Head Coach: Matt Nicholson (2nd year)
2015-16 record: 13-43-4, 30 pts. (6th in the South Division)
2015-16 leading scorer: Joey Molinaro (45 pts.)
2016 Playoffs: Did not qualify
2016-17 Division: South
First regular season game: Friday, September 9th vs. Wichita Falls Wildcats
Home opener: Saturday, September 10th vs. Odessa Jackalopes
The Amarillo Bulls season did not go as expected last year as the club finished last in the South Division with 13 wins and 30 points. Amarillo got off to a very though start, going 1-7-2 in their first 10 games. From that point on, the team was behind the 8-ball and never fully recovered. The Bulls finished 20th out of 22 teams in goals scored per game (2.22) and 19th out of 22 teams in goals allowed per game (3.63).
The Bulls did manage to string together six NCAA commitments, including four NCAA Division I commitments, which was highlighted by goaltender Anton Martinsson's commitment to the University of Alaska-Fairbanks. Martinsson led the NAHL this past season in saves (1,608) and shots faced (1,744), was 3rd in minutes played (2,629) and managed to finish in the top seven in save percentage (92.2%). Forward Joey DiBenedetto was one of the six players who made an NCAA commitment and also received the South Division's Community Service Award in 2015-16.
"Last year was obviously a difficult one for our organization. We had 20, one-goal losses, which at the end of the day were still losses, but told us we were competitive and we were close in games. We were in every game, but fell on the wrong side of the scoreboard too many times," said Bulls head coach Matt Nicholson. "Moving forward this season, we wanted to focus on depth at all positions, which was something we lacked last year. We felt we have done that in the off-season, which is something that excites us for the upcoming 2016-17 season. We need to find a way to turn those one-goal losses into two to three-goal wins."
One of the other things that Nicholson said will be a renewed focus are the college commitments. The Bulls had been one of the league leaders in recent seasons in that category, but in the past two years it had tailed off. "We want to lead the league in NCAA Division I commitments. It is the whole underlying purpose of a player wanting to come to a place like Amarillo and the North American Hockey League and it is why players come from all over the world come to the league. The stats and numbers don't lie and 250+ commitments this past season is an incredible number for this league. It speaks to the professionalism of the league and a testament to the quality of players, coaches and organizations we have in the league, who remain unified in the common goal of player development and advancement," said Nicholson.
Nicholson said that success in the South Division this season isn't going to come easy. In addition to the six teams that were in the division last season, the South has added a seventh team in the Shreveport Mudbugs. "I think the Division is going to be extremely competitive and a battle every night. Wichita Falls added Tony Curtale behind the bench and he certainly knows and has proven how to win and Karlis Zirnis in Shreveport also brings a lot of international experience to the table, so in my opinion, the division has gotten even stronger," said Nicholson.
Nicholson said that the success is also driven by the tireless and consistent support from the Amarillo community. "The fans and community really rally around the team and show some great support, so we owe it to them to keep doing everything in our power to put a good product on the ice. There has been hockey in Amarillo since the late 1960's, so they are a knowledgeable and passionate fan base who deserves a team that wins. We want to make the playoffs and win the Robertson Cup," said Nicholson. "It is also nice that we are blessed with great weather and a great building, something that is echoed across the South Division."
Nicholson said that a better start, including a strong performance at the Showcase is something that is something that remains a short-term goal. "We want to get off to a strong start. The NAHL Showcase is such a unique and incredible event. In terms of exposure, it is the first step for a lot of these guys on their way to an NCAA commitment. It puts them in a pressure-packed situation and we are going to find out what they are made of," concluded Nicholson.
Next up in the 24 in 24 series: Aston Rebels