24 in 24 Series: Aberdeen Wings
August 16, 2016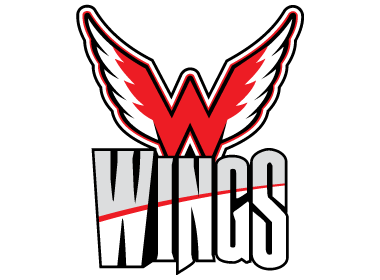 The 24 in 24 series features a look at all 24 teams in the NAHL for the 2016-17 season, with a new team being highlighted daily, leading all the way up until the start of the regular season. 24 in 24 looks into each NAHL team and will include video interviews with all 24 head coaches in the NAHL, as they provide fans with their expectations and outlook for the season, including taking a look at their strengths as a team and thoughts on the league. It will also take a look back on last season and how each team fared and what they accomplished.
Aberdeen Wings
Head Coach: Scott Langer (1st season)
2015-16 record: 22-27-11, 55 pts. (6th in the Central Division)
2015-16 leading scorer: Tucker DeYoung (38 points)
2016 Playoffs: Did not qualify
2016-17 Division: Central
First regular season game: Saturday, September 17th at Bismarck Bobcats
Home opener: Friday, October 7th vs. Minot Minotauros
The winds of change blew through Aberdeen this off-season after the team finished in last place in the Central Division in 2015-16 and missed out on the playoffs. On April 11th, the Wings parted ways with head coach Francis Anzalone and a search for a new head coach was underway.
The season wasn't without its successes however. First and foremost, the Wings had five NCAA commitments, including four to NCAA Division I schools. Next was the emergence of goaltender Peter Thome, who committed to the University of North Dakota during the season. Thome was also one of five NAHL players who were selected in the 2016 NHL Draft. Thome was selected in the 6th round by the Columbus Blue Jackets. He also played in the 2016 NAHL Top Prospects Tournament for the East Division team and was also named to the NAHL's Central Division All-Rookie Team.
Two days after announcing that Anzalone had been let go, the Wings named long-time NAHL head coach Scott Langer as their new bench boss. "Scott brings a wealth of success and experience to the Wings that we hope will propel our team to a level that the great fans of Aberdeen deserve," stated Wings owner Greg Odde. "Our goal is and has been to be one of the top teams in the NAHL."
Langer has been coaching for 19 years, and served the last 12 of those seasons as Head Coach and General Manager of the NAHL's Topeka Road Runners. He has a combined record of 437 wins, 179 loses, and 60 OTL in his 12 seasons, with an impressive .691 win percentage. It is that winning pedigree along with his ability to place players into NCAA programs that had Langer excited for his newest challenge. "Once I met the Odde family, it was easy to see that their organization is committed to doing things the right way. They truly share the same goals and philosophies that I have always had for myself as a coach, and for my team. I knew Aberdeen was the right fit. I am excited to be part of the Wings family and excited for the season."
"The Aberdeen Wings are looking to be a playoff contender each and every season. I believe that happens with hard work and a tight-knit group. We want to have a sense of family and togetherness with all of our players and with that success will come commitments," continued Langer. "We play in a very tough division and it will be a different experience for me. Each night will be a challenge and wins will have to be earned."
Langer has been around NAHL circles for a while and has seen the league and its commitments grow through time, something he attributes to the level of play and quality of coaching. "The fact that the NAHL had 250+ NCAA commitments this past year is incredible and a tribute to the level of play and quality coaching in the league. We want to add to the number each season and it is a big priority for us."
Up first for the Wings is a date with Bismarck on September 17th and following that is the annual pilgrimage to the NAHL Showcase. Langer believes that it will be important for the Wings to make a good impression early. "The NAHL Showcase is unmatched in terms of exposure. There is no better event in North America that offers the opportunity for our players to showcase their skills and succeed," said Langer. The Wings open up with the Corpus Christi IceRays on the first day, followed by games against Wilkes-Barre/Scranton, Amarillo and Coulee Region. "The NCAA commitments, including those coming out of the Showcase, really set the NAHL apart from almost every other junior league in North America. We all believe that it is one of the most important parts of what we do."
Langer also said that he is excited about the large amount of community support the Wings receive. "I have heard incredible things about the support from the fans. They are going to see a team that likes to play fast and physical, but most of all we want to have that family atmosphere. The support the team gets on and off the ice is exception and I look forward to experiencing that first-hand and keeping our players involved," Langer said.
Next up in the 24 in 24 series: Amarillo Bulls