South Division Report: Wildcats exceeding expectations
September 22, 2010
by Zach Duncan | NAHL.com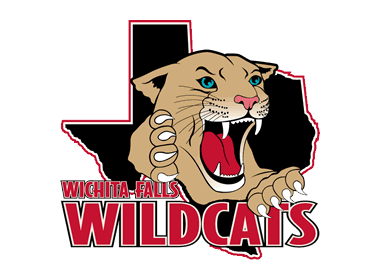 Less than a month ago, the Wichita Falls Wildcats were without a head coach.

Even when Mark LeRose came aboard after Mike Flanagan's abrupt departure to the American Hockey League, he didn't have much time to evaluate a roster he was unfamiliar with.

But no team raised more eyebrows over the weekend at the North American Hockey League (NAHL) Showcase Tournament than the Wildcats, who were crowned champions after winning all four games.

"To go into the Showcase and go 4-0 surpasses our expectations," said LeRose, who was formally hired Aug. 28.

The Wildcats had only one exhibition to prepare for the 2010-11 season, but got off on the right foot when the games counted Wednesday by routing the Chicago Hitmen, 8-1.

A hard-earned 2-0 victory over defending West Division champion Wenatchee Wild the next day provided Wichita Falls with a true gauge of where it was, competitively.

"The Wenatchee game was a huge confidence-builder," LeRose said. "We beat Chicago, but they're an expansion team and we really weren't sure if we could compete with the elite teams. The Wenatchee game proved we were a good team."

One of the team's top lines consists of veterans Sean Keane, Mac Olson and Ryan Frost. That trio combined for five goals and six assists in the tournament.

But making the biggest splash in Minnesota was the line of Junior A newcomers Dakota Klecha, Stephen Fahlstedt and Drew Allen. Klecha finished with a team-high four goals and seven points, while Fahlstedt posted six points.

Wichita Falls failed to make the playoffs a year ago, and a big reason for that was it surrendered the most goals in the NAHL.

Three new netminders got this year's team off on the right foot. Tyler Green, Eric Garavaglia and Brian Jones combined to stop 148 of the 154 shots they faced.

"Just looking at the numbers, the save percentage was outstanding for all three guys," LeRose said. "If we keep that up over the course of the season, then we're going to win a lot of games."

LeRose also credited the weekend's success to a veteran-based defense that is willing to do whatever it takes to get the job done.

"In the Bismarck (Bobcats) game (a 3-2 overtime wint), Daniel Hildebrandt took a puck in the face off a penalty kill and was bleeding badly, but he continued to play for the next 20 seconds," LeRose said. "That became a rallying point for our team."

LeRose said he's already put last weekend behind him as the Wildcats prepare for their home-opener Friday against the Fairbanks Ice Dogs, but given a hectic last few weeks, he couldn't ask for a better start.


SOUTH DIVISION NOTEBOOK


AMARILLO BULLS: While nobody scored more than two goals during Amarillo's 3-1 start in Minnesota, the Bulls did show off some pretty impressive depth. The team's 16 goals came from 11 different Bulls. Goalie Nikifor Szczerba was in net for all three victories, recording a solid 2.33 goals-against average.

CORPUS CHRISTI ICERAYS: All but one of Corpus Christi's games was decided by one goal. The IceRays (3-1) lost their opener to Traverse City 1-0, but responded with three straight wins, including a 5-4 decision over Chicago and a 4-3 shootout victory against Dawson Creek. Corpus Christi goalie Pheonix Copley saved all five shootout chances for the win.

NEW MEXICO MUSTANGS: The expansion New Mexico Mustangs (1-3) shook off a tough 7-0 loss in their debut against Janesville and claimed the program's first win Friday against Springfield, 3-1. Defenseman Eli Riddle registered two of his team-best three goals against the Jr. Blues.

TEXAS TORNADO: Forward Rock Einersen is well on his way to matching last year's production for the Tornado (2-1-1). His 10 points (four goals, six assists) are second in the league. Einersen, who had 29 points in 51 games with Texas a year ago, assisted on four of his team's six power-play tallies. The Tornado averaged 43 shots on goal at the tournament, most in the league.

TOPEKA ROADRUNNERS: Topeka also finished with a perfect 4-0 mark at the tournament, and the Roadrunners did so with quick starts and quality defense. The reigning division champs outscored opponents 8-0 in the opening period, allowed the fewest shots per game (20.75) and received tremendous goaltending from Rasmus Tirronen, who stopped 43 of the 44 shots he faced.