Bismarck forward Strand makes NCAA commitment
June 27, 2016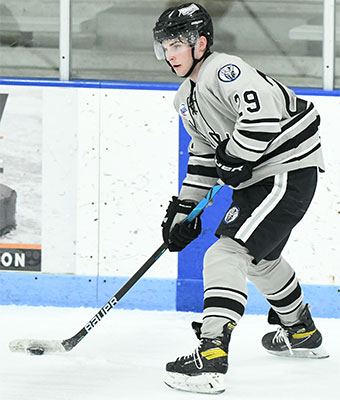 By Paul Teeple, Bismarck Bobcats
The Bismarck Bobcats, proud members of the North American Hockey League (NAHL), picked up their ninth college commitment from the 2015-16 season as center Alex Strand announced that he has committed to play NCAA Division III Hockey at the University of Wisconsin-Eau Claire in the fall of 2016.
"It's a huge honor for me to be able to play college hockey next year, especially at a school like Eau Claire," stated Strand, who played three seasons with the Bobcats, starting in 2013-14 just days after finishing a State Tournament run with Roseau (Minn.) High School. "Every year they have a lot of success, so I can't wait to get down there and start going to school and playing hockey."
In his final season with the Bobcats, Strand led the black and gold in goals with 27 and—combined with his 22 assists—finished one point shy of 50 in 2015-16. Strand also was selected to and played for the Central Division team at the 2016 NAHL Top Prospects Tournament.
As much as he filled the stat column, though, his intangibles meant the most to the team.
"Alex was a heart-and-soul guy for our team all year," hailed Bobcats head coach and general manager Layne Sedevie. "His character and determination will be hard to replace for our team, but they're what are going to make him a great college hockey player.
At UW-Eau Claire, Strand will join fellow Bobcat alums Adam Knochenmus—also from Roseau—and Patrick Moore.
"I actually talked to Adam the week before I made my decision and he told me that he absolutely loved playing [for the Blugolds]," recalled Strand. "It will definitely be nice for me to know someone going in; he can show me the ropes and help me get settled in the fall."
Members of the WIAC, a century-old conference that only added hockey three years ago, the Blugolds are coached by Matt Loen, who led the program to a Division III National Championship in 2013.