Fairbanks defenseman Kleven makes NCAA commitment
June 27, 2016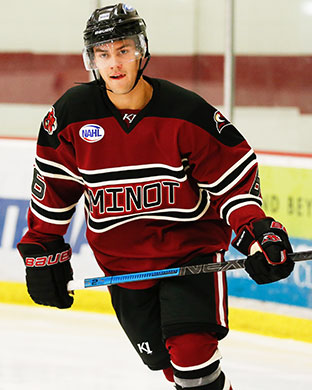 By Danny Martin, News-Miner
Fairbanks Ice Dogs head coach Trevor Stewart described Adam Kleven as an unsung hero for the reigning Robertson Cup champions in the North American Hockey League (NAHL).
Unselfish is another apt description for the 6-foot-1, 185-pound defenseman, who verbally committed to the NCAA Division III program at the University of Wisconsin-Eau Claire.
"He has a real professional approach in every thing he does," Stewart said by cellphone Friday. "He's going to be successful in anything he does in life. I couldn't be more proud of Adam and him playing college hockey."
Attempts to reach Kleven on Friday were unsuccessful.
The 20-year-old native of Peoria, Arizona, didn't score a goal in his two seasons with the Ice Dogs, a Tier II Junior A program, but he helped other teammates find the back of the net.
"I like to create plays and stuff like that,'' Kleven said in a March 30 article in the News-Miner. "I like to spread the love (puck) around and get some other guys plays, too."
His final season was hampered by injuries and illness but Kleven distributed 15 assists in 49 regular-season games and contributed two helpers in 12 playoff contests.
He missed two games early in the 2015-16 campaign because of an illness and he was sidelined for nine games after sustaining a concussion for the Midwest Division team in the 2016 NAHL Top Prospects Tournament in Plymouth, Michigan, in February.
Kleven, who had nine assists in 47 games in 2014-15, won't be the only former Ice Dog on Wisconsin-Eau Claire's roster for the upcoming season. Twins Colton and Jacob Wolter, who graduated from Lathrop High School, are entering their senior seasons as forwards for the Blugolds of the Wisconsin Intercollegiate Athletic Conference.
Wisconsin-Eau Claire tied Wisconsin-River Falls for first place last season with a 5-2-1 conference and 15-6-6 overall record. The Blugolds reached the semifinal round of the WIAC playoffs.
Kleven is the 11th player from the 2015-16 Ice Dogs to commit to a college hockey program.
The team's NCAA Division I commits were Todd Burgess (Rensselaer Polytechnic Institute), Logan Coomes (Merrimack College), Ryner Gorowsky (Bentley University), Reggie Lutz (Minnesota State ), Aaron McPheters (Alaska Anchorage), Alex Mehnert (Air Force Academy), Gavin Nieto (Brown), Jakob Stridsberg (Arizona State) and Tyler Tomberlin (Niagara). Clay Cross and Mitchell Baumann each committed to Marian University, a Division III program coached by Erik Largen, a former Ice Dogs assistant coach, West Valley High School graduate and former Alaska Nanooks goaltender.