NAHL players ready for 2016 NHL Draft
June 24, 2016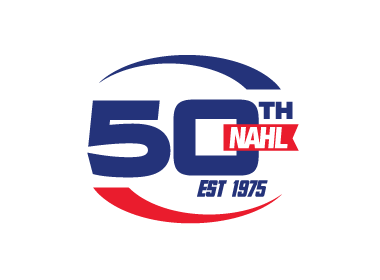 The 2016 NHL Draft takes place this weekend on June 24-25 at the First Niagara Center in Buffalo, New York, and will be hosted by the NHL's Buffalo Sabres. The 1st round of the draft will take place on Friday, June 24 (7pm eastern, NBC Sports Network). Rounds 2-7 will be conducted on Saturday, June 25 (10am eastern, NHL Network).
Back in early April, the NHL Central Scouting final rankings were released for the 2016 NHL Draft and several NAHL players, both past and present, were on the list as players who could potentially be drafted in this weekend's draft. 11 players (8 current, 3 alumni) were recognized on the National Hockey League's (NHL) Central Scouting's 2016 Final Rankings. In addition, several players that weren't on the list have also been generated some draft buzz.
The list included eight players that played in the NAHL during the 2015-16 season and three former players that played in other leagues, but played in the NAHL during last season (2014-15).
NHL club executives, scouts and coaches will be present on the NHL Draft floor while more than 15,000 fans and 500 print, television and radio media are expected to attend.
A total of seven players with NAHL ties were selected in last year's 2015 NHL Entry Draft.
Current NAHL players on the list (alphabetical)
Todd Burgess, F, Fairbanks Ice Dogs
Erich Fear, D, Springfield Jr. Blues
Mikael Hakkarainen, F, Brookings Blizzard
Tyler Johnson, G, Topeka RoadRunners
Jack LaFontaine, G, Janesville Jets
Tommy Nappier, G, Springfield Jr. Blues
Rourke Russell, D, Wichita Falls Wildcats
Peter Thome, G, Aberdeen Wings
NAHL Alumni
Konstantin Chernyuk, F, Wichita Falls Wildcats (2014-15)
Matt Jurusik, G, Janesville Jets (2014-15)
Kevin Klima, F, Springfield Jr. Blues (2014-15)
Who else?
Cam Clarke, D, Lone Star Brahmas
Zak Galambos, D, Johnstown Tomahawks
Joey Kubachka, F, Wilkes-Barre/Scranton Knights
Brian Hurley, D, Minnesota Wilderness
The NAHL has a rich history of players being selected in the NHL Draft that have been drafted right after playing the NAHL the seasons leading up to the draft. The highest draft pick from a non-USNTDP team came back in 1991 when Brian Rolston (Detroit Compuware) was drafted 11th overall in the 1st Round by the New Jersey Devils. The highest draft pick from the USNTDP team during their time in the NAHL was Erik Johnson, who went 1st overall to the St. Louis Blues in 2006.