NAHL announces results of 2016 Entry Draft
June 7, 2016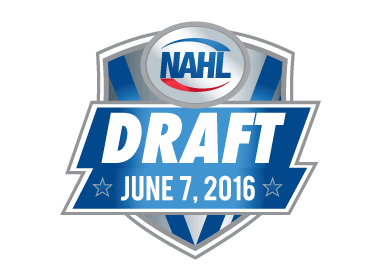 The North American Hockey League (NAHL) has concluded and announced the results of the 2016 NAHL Draft, which was held on Tuesday, June 7th.
In total, 250 players were selected in the draft, which took just under three and a half hours to complete.
Click here to listen to the archive of the draft through
FASTHockey
"The draft is a special day for the players and is one of the important ways that our teams build their rosters for the upcoming season. There is a lot of hard work that goes into the evaluation of the players by coaches, scouts and their respective staffs. We congratulate everyone who was selected and wish them continued success in their next steps toward playing in the NAHL," said NAHL Commissioner Mark Frankenfeld.
The first player taken in the draft was goaltender David Tomeo, who was selected by the expansion Northeast Generals. Tomeo played this past season for Shattuck St. Mary's Prep. The first forward taken in the draft was Jared Domin (Cowichan Valley Capitals/BCHL) who was drafted 2nd overall by the expansion Shreveport Mudbugs. The first defenseman taken was Christopher Lipe of the Fox Motors 16U team, who was taken 3rd overall by the Kenai River Brown Bears.
Breakdown of positions drafted:
Forwards: 158
Defense: 70
Goalies: 22
Breakdown of teams/levels/leagues where players were selected from:
Midget: 75
Other junior: 61
High School: 37
USHL: 27
NAPHL: 17
Prep Schools: 16
European juniors: 13
NA3HL: 3
NCAA: 1
17 players from the NAPHL were selected in the draft. That is in addition to the 47 NAPHL players who were signed to a tender over the course of the 2015-16 season, bringing the total number of NAPHL players who played in the league in 2015-16 that were either tendered or drafted into the NAHL to 64.
Three players from the NA3HL were also drafted. In total, 32 players who played in the NA3HL this past season were tendered or drafted by NAHL teams, which is a new record.
Players not drafted or tendered by NAHL teams are still able to participate in each team's respective open tryout camps. Remaining tryout camps are listed here.
Each team's protected list now stands at 30 players. All rosters must be reduced to 25 players by September 1st and 23 players by October 1st.