Fairbanks forward Lutz makes NCAA DI commitment
May 25, 2016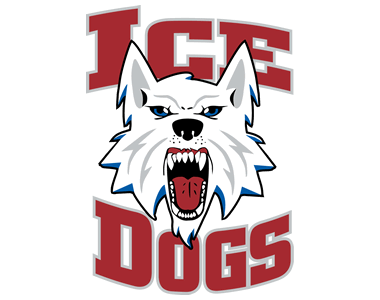 By Tim O'Donnell, News Miner
NAHL and Fairbanks Ice Dogs forward Reggie Lutz first started talking to the Minnesota State hockey program during his senior season at Elk River High School in Elk River, Minnesota.
On Monday, the Fairbanks Ice Dogs right wing took a visit to the campus in Mankato, Minnesota, and decided that is where he wanted to play college hockey.
Lutz announced his commitment on Twitter.
"When I went on my tour today, I just fell in love with the campus and the student life there," Lutz said by cellphone. "I felt it was great fit for me with what I want to study and the hockey there is great. For me, I think it was kind of an easy decision. Plus, it's in Minnesota. It's got everything that I want."
Lutz, 19, said he plans on returning to the Ice Dogs for the 2016-17 season before heading off to Mankato.
Lutz said he and the Mavericks, who play in the Western Collegiate Hockey Association, didn't talk for awhile before reconnecting this season.
"I would say probably in mid-December I started talking to them again and it just took off from there," Lutz said.
Monday's visit was the first college visit for Lutz, who said he did have interest from other schools.
"After going to Mankato it was an easy decision," Lutz said. "The other schools, I was definitely interested in but I didn't think they could match what Mankato could give me, such as schooling and playing wise and the great facilities that they have in Mankato."
Lutz, who hails from Elk River, said staying in Minnesota was a factor when he was making his decision.
"My first choices were in Minnesota," Lutz said. "That was nice to talk to some Minnesota schools and figure out where I wanted to go from there."
Lutz's hometown of Elk River is about 100 miles north of Mankato. Lutz said he saw the Mavericks play once while growing up, when his hockey team took a trip there.
Lutz scored 30 goals with 21 assists for 51 points in 57 regular season games this season for the Ice Dogs, his first full season in the North American Hockey League.
Lutz added nine goals and three assists for 12 points in 12 playoff games as the Ice Dogs won the Roberts Cup National Championship.
Lutz's 12 playoff points were the fourth most in the league. His 30 goals during the regular season were also fourth most in the NAHL.
Lutz scored five times the semifinals and championship game of the NAHL playoffs in Edina, Minnesota, on May 12-15. He scored twice in each game as the Ice Dogs swept the Aston (Pennsylvania) Rebels in the best-of-three semifinal series.
He scored the game-winner in the Ice Dogs' 2-0 win over the Wichita Falls (Texas) Wildcats in the championship game.
That weekend in Edina caught the eyes of more college scouts.
"After that weekend, there were definitely a few more teams talking to me. And a couple teams trying to make their pushes to get me to go their school after that weekend," Lutz said. "That was kind of interesting to see that."