Lone Star forward Brejcha makes NCAA commitment
May 24, 2016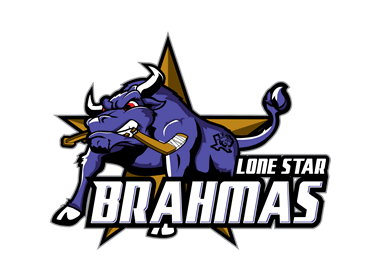 The Lone Star Brahmas, proud members of the North American Hockey League (NAHL), have announced that forward Tomas Brejcha became the 14th Brahma from the 2015-16 season to announce his college commitment , declaring he'll be playing for NCAA Division III Curry College in the fall.
Brejcha recorded 24 points in 36 games during the season, which was his first in North America. At 6'3" – 210 lbs. the native of the Czech Republic made his presence felt on more than just the score sheet as well, displaying a physical existence at all times.
"Curry's Head Coach T.J. Manastersky is one of the absolute nicest men I have met here in the United States. He made it clear that he really wanted me and he did everything to make sure I was on his team," the 1995-born forward said.
Brahmas Head Coach Dan Wildfong remarked his happiness by saying, "Tomas really learned how to manage his ability this year and we're really proud that he has the opportunity to continue his hockey career here in America. It's something he wanted and it feels great to be able to provide him with that chance."
Located in Milton, Massachusetts, Curry College competes in the NCAA Division III Eastern College Athletic Conference - Northeast. The school's official athletics name is the Colonels.
"Curry's location is great. It's close to Boston and it'll be a great area not only for hockey but to experience as well," Tomas said of his new future home. "We don't have college like this in the Czech Republic so I am excited to have the opportunity to go. The only things I know about college are from movies but I am so happy that I'll now have the chance to find out for myself."
Many will remember Brejcha's season being plagued by a horrific injury suffered in November after being lacerated by a skate in Corpus Christi. The cut caused the big left-handed shot to miss over two months before returning to action in Odessa at the end of January.
"The fact that Tomas was even able to come back from that sort of injury is incredible. He knew it was going to keep him out of action for a long time but the way he handled that time off is what really set him apart. He put the work in to stay in shape, lost weight, and became visibly more mobile when he came back. It's one thing to come back from that but to come back the way he did was really something," Wildfong stated about the situation.
When he re-entered the lineup, #95 had his best production of the year, averaging a point-per-game in the last 15 regular season games.
"The Brahmas are one of the best teams in the North American Hockey League for a reason. There's a reason there are scouts in Brahmaland every weekend. It's a big name in junior hockey because they know that this organization develops players. The team I'm joining at Curry is very young and I want to go the Final Four at least one time."
With the commitment the organization now has 14 players who dawned a Brahmas sweater this season committed to play college hockey. That ranks third overall in the NAHL.