Fairbanks crowned Robertson Cup National Champions
May 15, 2016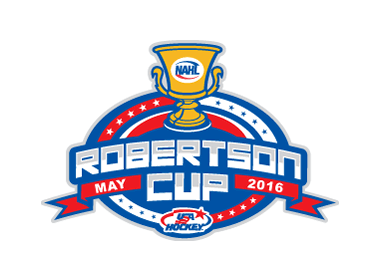 The Fairbanks Ice Dogs won their third NAHL Robertson Cup National Championship in team history on Sunday as they defeated the Wichita Falls Wildcats, 2-0 at the Braemar Ice Arena in Edina, Minnesota. Reggie Lutz, who scored the game-winning goal in the game in the 3rd period, scored five of Fairbanks' seven goals in the event and was named the Tournament's Most Valuable Player.
The 1st period featured cautious play by both teams and the nerves were somewhat evident on playing on such a big stage with a National Title on the line. With both teams fresh thanks to a day of rest on Saturday, the action was swift, but both Justin Kapelmaster for the Wildcats and Gavin Nieto for the Ice Dogs kept things scoreless in the 1st period with Fairbanks outshooting Wichita Falls, 10-7.
The end of the 1st period featured some pushing a shoving from the teams, resulting in coincidental penalties to start the 2nd period. The Wildcats controlled play for most of the frame, but Fairbanks goalie Gavin Nieto was equal to the task, making several Grade A saves. The period would again end scoreless with the Wildcats outshooting the Ice Dogs 11-8 in the period.
The 3rd period started with the Wildcats on the power play, but they could not get anything going. Later in the period, the Ice Dogs offense finally came alive as Lutz picked up a puck off a offensive zone face-off win and fired one that beat Kapelmaster to the glove side for the first goal of the title game with 10:54 remaining. Less than a minute later, Josef Ingman scored to make the score 2-0. The Ice Dogs and Nieto shut the door the rest of the way, capturing the title.
Nieto made 31 saves in the shutout, while Kapelmaster made 29 saves in the loss.
Robertson Cup All-Tournament Team
Forward: Reggie Lutz, Fairbanks Ice Dogs (Most Valuable Player)
Forward: Clay Cross, Fairbanks Ice Dogs
Forward: Austin Albrecht, Wichita Falls Wildcats
Defense: Aaron McPheters, Fairbanks Ice Dogs
Defense: Jake Dalton, Wichita Falls Wildcats
Goaltender: Gavin Nieto, Fairbanks Ice Dogs