Bismarck wins Central to round out Robertson Cup field
May 10, 2016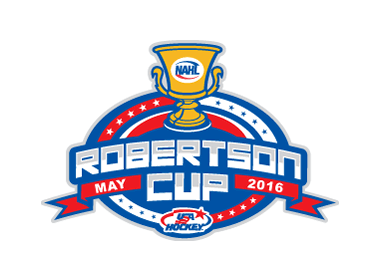 Central Division Finals, Game 5: Austin 0 @ Bismarck 4 (Bismarck wins series, 3-2) – Thanks to 20 saves from goaltender Hunter Shepard, the Bismarck Bobcats claimed the final spot in the 2016 Robertson Cup with a 4-0 win in Game 5 on Monday night, winning the Central Division playoff title.
With the Bobcats win, all the #1 seeds from each division during the regular also won their respective playoff titles and advanced to the Robertson Cup, further lending credence to the value of home ice during the playoffs.
The Bobcats will be the #3 seed at the event and will face the #2 seed Wichita Falls Wildcats in one Semi-Final series, while the other Semi-Final series will feature the #1 seed Fairbanks Ice Dogs against the #4 seed Aston Rebels.
It is the first time the Bobcats have claimed the Central title since 2013 and their sixth overall division playoff title.
Neither team was able to break a scoreless tie in the first, thanks in large part to Shepard, who made highlight reel glove stops on Zach Kennedy and Evan Cholak on separate transition opportunities to keep his side level at 0-0 through 20 minutes.
Bobcat forward Solag Bakich needed just 13 seconds to break the deadlock in the second period, muscling home a 2-on-1 pass from Aaron Herdt before Bruins netminder Kristofer Carlson could freeze the puck for a 1-0 Bobcat lead.
The second period stood out as the Cats' best on Monday, as the home side peppered Carlson with 18 shots while repeatedly blocking Austin attempts—holding the visitors to just three shots in the middle frame.
Winger Jared Pike doubled the Cats' advantage to 2-0 with 3:37 to go in the second amid a Bobcat penalty kill when a Bruins defender lost an edge at the offensive blue line, springing the second-year forward for a shorthanded breakaway that Pike cashed in high-glove on Carlson.
In the third, the two sides went toe-to-toe—each posting nine shots and trading chances on the rush—but neither team could find the net until Austin pulled Carlson for the extra attacker, allowing Pike to snap a 60-foot shot through a pair of Bruin defenders and into the empty net to make it 3-0 with 2:48 remaining.
Carlson would head back to the bench again in the final two minutes, staying there when the Cats were called for a late penalty on Pike, but Bakich tacked on one more goal into the empty net for the final 4-0 margin.
All told, Hunter Shepard turned in 20 saves for his first career playoff goose-egg. Carlson made 31 saves on 33 but couldn't avoid his fourth loss of the postseason.