Fairbanks punches ticket to Robertson Cup with Game 5 win
May 8, 2016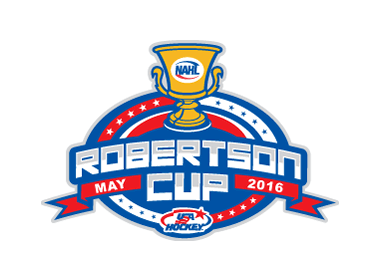 Midwest Division Finals, Game 5: Fairbanks 5 @ MN Wilderness 2 (Fairbanks wins series, 3-2) – It took the maximum five games, but the NAHL regular season champion Fairbanks Ice Dogs punched their ticket to the Robertson Cup with a 5-2 win over the Wilderness, capturing the Midwest Division Playoff title. The win means that there will be a new Robertson Cup Champion in 2016.
Fairbanks will be the #1 seed at the Robertson Cup, where they will face the Aston Rebels if Bismarck wins on Monday, or Austin if the Bruins win on Monday.
The Ice Dogs got the scoring started quickly in the 1st period, as a wrap-around attempt by Liam Stirtzinger went right to Cayden Cahill as the side the net, who put it past a helpless Wilderness goalie Luke Kania for a 1-0 lead. The team scoring first in every game in the series would end up winning each game.
Early in the 2nd period, the Ice Dogs would make the score 2-0 as Todd Burgess, who is tied for the Robertson Cup Playoffs scoring lead, would pounce on a big rebound and put a shot into an open net to give Fairbanks a two-goal edge. Six minutes later, the Ice Dogs made the score 3-0 as the Wilderness failed to clear their zone and turned the puck over to Clay Cross, who passed over to Reggie Lutz, who then fed Tyler Tomberlin, who was wide open on the back door to give Fairbanks what would be the eventual game-winning goal. The Wilderness got on the board later in the period as shot from the point by Janis Jaks was redirected in front by Ryan Bloom to make the score 3-1.
Early in the 3rd period, the Wilderness cut the lead down to one goal as defenseman Tyler Vold sent a wrist shot from the side board through traffic to make the score 3-2. However, less than three minutes later, the backbreaker would come from Fairbanks forward Logan Coomes, who dangled his way into the Wilderness zone and sent a rocket shot past Kania for a 4-2 lead. Burgess would add his second goal of the game on an empty-net, which cemented the Fairbanks series win.
Fairbanks goalie Gavin Nieto made a personal playoff-high 35 saves in the win, while Kania made 34 saves in the loss.