Saturday Scores: Bruins, Wilderness win again for force Game 5's
May 8, 2016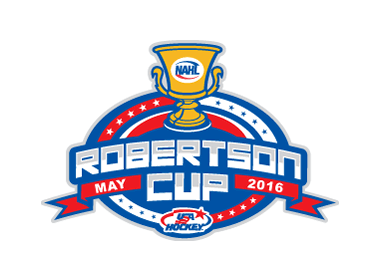 Central Division Finals, Game 4: Bismarck 2 @ Austin 3 (Best of five series tied, 2-2)
- A 3rd period shorthanded goal from Miha Zajc, was the difference as the Bruins won their second straight game to tie the series at 2-2 with a 3-2 win in Game 4 on Saturday night. The 5th and decisive game of the series will be played Monday night back in Bismarck. Austin got off to a fast start thanks to two 1st period goals from Evan Cholak and Jade Miller, which came five minutes apart from one another. The Bobcats stormed back in the 2nd period with goals from Aaron Herdt and Nick Alexander. Early in the 3rd period and with the Bruins on a penalty kill, Zajc made a nice dangle entering the zone and fired a wrist shot past Bismarck goalie Hunter Shepard for what would stand as the game-winner. Bruins goalie Kris Carlson made 26 saves in the win, while Shepard made 21 saves in the loss. The winner of Monday night's Game 5 will advance to play in the Robertson Cup Championship, which begins May 12th in Edina, Minnesota.
Boxscore
Midwest Division Finals, Game 4: Fairbanks 2 @ MN Wilderness 3 (Best of five series tied, 2-2)
– Although it wasn't overtime like the first three games of the series, Game 4 was decided by just a goal, which happened to be off the stick of Wilderness defenseman Alex Trapp for the game-winner as the defenseman scored his first and biggest goal of the year to help the Wilderness capture Game 4, 3-2 and force a fifth and decisive game on Sunday in Cloquet. The Wilderness got off to a fast start with two, 1st period goals from Aaron Miller and Alex Toscano. The Ice Dogs stormed back in the 2nd period with goals from Evan Somoza and Todd Burgess. The Ice Dogs had a golden chance to lead in the game, but a penalty shot from Tyler Tomberlin was denied by Wilderness goalie Luke Kania. With just 3:30 left in regulation a rush into the zone led to a pass to the point, where Trapp let go a shot that found its way past Ice Dogs goalie Gavin Nieto and into the back of the net. Kania made 18 saves in the win, while Nieto took the loss, making 14 saves. The winner of Game 5 on Sunday will advance to the Robertson Cup Championship in Edina, Minnesota.
Boxscore