March 17, 2016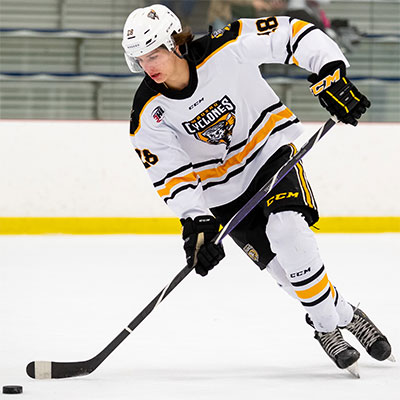 As the NCAA hits in conference tournaments this weekend in Division I, many alumni have made waves over the course of the past few weeks. Here is a look at some of those players honored and recognized:
When the National Collegiate Hockey Conference (NCHC) announced several new policy changes entering the 2015-16 season, one new item for this season was the creation of the NCHC's Post-Graduate Scholarship, which has been awarded to Denver senior forward
Gabe Levin
as its inaugural recipient. Levin, who played in the NAHL for the Fairbanks Ice Dogs and the NAPHL for the California Titans, will be recognized as the Post-Graduate Scholarship winner at the NCHC Awards Celebration on March 17. Levin (Marina del Rey, Calif.) boasts a 3.96 grade-point average while majoring in finance with a minor in legal studies. He is a two-time NCHC Scholar-Athlete Team member and a three-time NCHC Academic All-Conference honoree. He is also one of only two finalists for the NCHC's 2015-16 Scholar-Athlete of the Year Award. The assistant captain on the ice is scheduled to graduate from Denver's Daniels College of Business this June, before enrolling in law school in September (school still to be determined).
Read full story here
.
Former Johnstown Tomahawks/Alaska Avalanche and current Minnesota State-Mankato defenseman Casey Nelson was named as the WCHA Defensive Player of the Year. Nelson has been the backbone of a Minnesota State defense that has allowed the fewest shots on goal per game and ranked eighth nationally by yielding just 2.03 goals per game, while also contributing mightily on the offensive end. The junior from Wisconsin Rapids, Wis. led all WCHA defensemen (second among all players) with a +16 rating in his 27 league games, while also pacing blue-liners with 71 shots on goal and tying for fourth with 15 points (4g-11a). Nelson enters the 2016 playoffs tied for second among league d-men with 20 points overall (four goals), while his 16 assists are tied for seventh among all players and his +14 rating is tied for fourth.
Former Amarillo Bulls and current Robert Morris forward Greg Gibson was named to the Atlantic Hockey 1st Team. Gibson led the league in goals with 25 and was the Player of the Month in February.
Former Springfield Jr. Blues and current Mercyhurst defenseman Lester Lancaster was also selected to the Atlantic Hockey 1st team. Lancaster is one of two freshmen to be named First Team All-Conference recipients, marking the first time in conference history a freshman has been voted a First Team All-Conference player. Lancaster tied for the Atlantic Hockey lead in freshman scoring and led all Atlantic Hockey defensemen with 26 points in conference play. Lancaster played 76 games over the course of two seasons with the Jr. Blues and had 39 points.
Former Austin Bruins and current Penn State goaltender Eamon McAdam was named to the All-Big 10 2nd Team. In net, McAdam led the Big Ten in save percentage (.915) and was second in goals-against average (2.88) behind only Big Ten Goaltender of the Year Eric Scheirhorn of Minnesota. McAdam is currently tied for the nation's lead with three goaltender assists and has a 12-7-1 record, setting a new single-season Penn State record for wins by a netminder.
Former Austin Bruins and current UMass-Lowell forward CJ Smith as named the Hockey East Co-Player of the Week. Smith racked up four points (2g, 2a) for the River Hawks in a pair of wins over Boston University to help UML return to the Hockey East semifinals for the fourth straight year.
Former Alexandria Blizzard and current North Dakota junior defenseman Paul LaDue was named to the Honorable Mention All-Conference team for the NCHC. LaDue, a Grand Forks, N.D. native, appeared in all 22 conference games for UND and registered three goals and eight assists with a plus-14 rating. Schmaltz, from Verona, Wis., had five goals and 19 assists in 19 NCHC games and tied for the conference lead in assists per game.
Former Minnesota Wilderness and current Minnesota-Duluth goalie Kasimir Kaskisuo was named to the Honorable Mention All-Conference team for the NCHC. Kaskisuo, who landed a spot on the NCHC All-Rookie Team last season, reigned as the NCHC's goals against average leader (league games only) in 2015-16 with a 1.69 mark and turned in the second best saves percentage mark (.932) while seeing more minutes of crease time (1,384:42) of any conference puckstopper. Overall, the Vantaa, Finland, product has compiled a 1.86 goals against average and a .926 saves percentage -- marks which would both be UMD single-season records -- in 33 appearances this season. Kaskisuo also owns a share of the UMD record for shut outs in a season with five thus far.
Three NAHL alumni were named to the WCHA All-Rookie Team. Former Fairbanks Ice Dogs and current Alaska Anchorage defenseman Wyatt Ege, former Topeka RoadRunners and current Minnesota State-Mankato defenseman Daniel Brickley and former Minot Minotauros/Minnesota Magicians and current North Michigan goalie Atte Tolvanen were all named to the team.
Former NAHL and St. Louis Bandits goalie Keith Kinkaid was named the NHL's #3 Star of the Week. Kinkaid went 2-0-0 with a 0.48 goals-against average, .981 save percentage and one shutout to lead the Devils (33-29-7, 73 points) to a perfect start on their three-game road trip through California. He earned his second career shutout with 30 saves in a 3-0 victory over the San Jose Sharks March 10. Kinkaid then turned aside 22 of 23 shots in a 2-1 overtime win against the Los Angeles Kings March 12. The 26-year-old Farmingville, N.Y., native owns a 13-11-5 record in 37 career appearances, including a 7-6-1 clip with a 2.44 goals-against average, .911 save percentage and two shutouts in 17 outings this season.
The ECHL's Allen Americans signed former Bismarck Bobcats forward Nick Miglio to an Amateur Tryout Agreement (ATO)