Johnson, McKay lead IceRays to shutout of Brahmas
February 12, 2016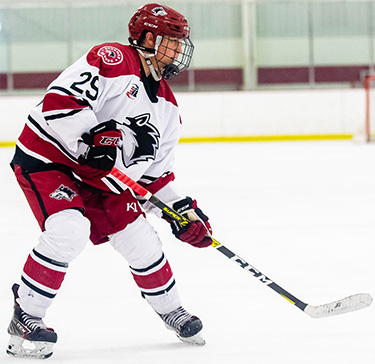 Lone Star 0 @ Corpus Christi 3 - A hat-trick by forward Carter Johnson and strong goaltending by Dryden McKay lead the Corpus Christi IceRays (18-20-4) to a 3-0 shutout win over the Lone Star Brahmas (27-10-7) on Thursday night at the American Bank Center. The shutout is the second for the IceRays this season and first coming on home ice since Feb. 15, 2015.
The Brahmas held control for a majority of the first period, but the IceRays were able to increase their side of the shot clock with numerous chances on net throughout the first frame. The opening goal didn't come until 19:58 of the first period when Johnson found a loose puck right off a faceoff draw in the offensive zone and ripped it toward net to give the IceRays a 1-0 lead.
From that point on, the Brahmas held the pressure on the IceRays stemming through the final two periods but picking up in the middle frame. McKay became another point of focus in his second-straight game and continued his recent run of solid performances, turning away numerous high-quality chances and rebounds throughout the middle period. IceRays forward Brendan Miller worked the puck into the offensive zone late in the period, and after a drop off pass to Johnson and some kicking around, the Manitoban found an opening to the left side of the netminder to score his second for a 2-0 lead at 17:22.
Pressure continued to mount, and the IceRays were pinned back in their own zone due to two Brahmas power plays and desperation sinking in to find an answer to the IceRays' goals and defensive presence. Despite a number of blocked shots, the Brahmas were turned away all 16 times in the third period by McKay. The IceRays only recorded two shots in the third frame, and the second sealed the win. At 18:55, with the IceRays on the penalty kill and the Brahmas netminder pulled, Johnson blocked a shot from the point then slotted a shot from his own blue line for his third of the night, completing the hat-trick and sealing his team's fate with a 3-0 shutout win. Johnson's hat-trick is the first by an IceRays player this season, and the shutout is the team's second in two months, both by identical scores.
McKay (8-8-1) earns his first shutout of the season and third of his North American Hockey League (NAHL) career, stopping all 30 shots faced. Brahmas netminder Conor O'Brien (9-4-5) saved 11 of 13 shots in the loss (story by Collin Schuck)