2016 NAHL Top Prospects Tournament just a week away
February 8, 2016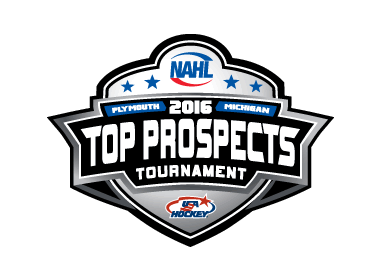 The North American Hockey League (NAHL) 2016 NAHL Top Prospects Tournament, presented by Easton, is just one week away and will be held from February 15-16, 2016 at USA Hockey Arena in Plymouth, Michigan. 100 total players from the NAHL will be spread amongst five teams, who will play in two games each during the event. The event will feature teams that represent the four divisions in the NAHL: Central, East, Midwest and South, along with an NAHL Selects team.
For more information on the NAHL Top Prospects Tournament including: rosters, schedule, ticket information, hotels, arena info, please visit
www.nahl.com/tpt
SCOUT PASSES ON SALE:
Scout passes will be available for $50 for the entire event or $35 a day and are on sale now. The packet includes a pass for entrance into the USA Hockey Arena (
and the NAPHL Championship Games
) for all the days of the event, access to the scout room, which will include food and beverage throughout the event, a tournament program, line charts for each game and all pertinent team and player information.
Scout passes can be purchased online here
, or contact Shannon Smith in the NAHL office at 972-464-1382 or at
ssmith@nahl.com
The NAHL is also pleased to announce that the US National Team Development Program (NTDP) 17-Team will also take part in the NAHL event. The NAHL and the NTDP have a rich and productive 12-year history together, as the NTDP was a full-time member of the NAHL from 1997-2009 and has been a part of the NAHL Top Prospects Tournament for the past two seasons.
2016 NAHL Top Prospects Tournament Schedule (Eastern time):
Monday, February 15th
1:30pm: East Division vs. South Division
4:30pm: Midwest Division vs. NAHL Selects
7:30pm: Central Division vs. USNTDP 17-Team
Tuesday, February 16th
11:00am: Midwest Division vs. South Division
2:00pm: Central Division vs. East Division
5:00pm: NAHL Selects vs. USNTDP 17-Team
Only those NAHL players without an NCAA commitment at the time of selection are eligible to participate in the NAHL Top Prospects Tournament, with the exception of those who will be playing on the NAHL Selects team, or those that have been identified as a player of interest by NHL Central Scouting. Each of the teams consists of a 20-man roster (12 forwards, 6 defensemen, 2 goaltenders).
In a very short period of time, the NAHL Top Prospects Tournament has become one of the most highly-scouted events of its kind. Last season, over 200 scouts attended the event, which featured almost every NHL team and NCAA Division I school. Over a third of the players that competed in last year's event ended up with an NCAA Division I opportunity. Combined in 2016 with the NAPHL 18U and 16U Dixon Cup Championship Games and the NA3HL Top Prospect Tournament, it will make for an exciting week of hockey and provides a great opportunity for every scout and coach to get a close look the talent in the three leagues.