Fighting Falcons unveil logo
August 6, 2010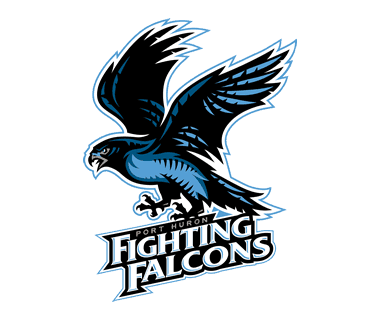 The Port Huron Fighting Falcons of the North American Hockey League (NAHL) have unveiled their official team logo, an updated version first seen at the team's July 14 press conference.

The primary logo features a falcon in flight and will appear on home jerseys. The secondary logo, right, features a falcon with feathers in the team's colors of blue and yellow and will appear on the team's road jerseys.

A third logo, featuring a circular design with the Blue Water Bridge will appear as a shoulder patch on both jerseys.

"We're very excited to show off our new logo," said Dave Goetze, the Fighting Falcons' vice president and business manager. "I think our fans will love the new design, and we're looking forward to presenting the jerseys in the near future."

The Fighting Falcons will begin to form their roster as they hold their first tryout camp from Aug. 11-15 in Glacier Pointe, Mich., with the main training camp taking place at Port Huron's McMorran Arena from Aug. 25-29.

For more information on the Fighting Falcons, visit PortHuronNAHL.com.