Ice Dogs tame Brown Bears on Thursday, 5-1
January 29, 2016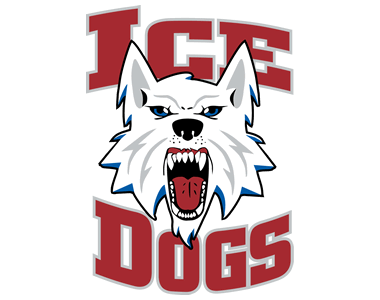 Kenai River 1 @ Fairbanks 5 - The power play for the Fairbanks Ice Dogs sputtered for most of Thursday night's North American Hockey League and Ravn Alaska Cup series opener against the visiting Kenai River Brown Bears.
The Ice Dogs, though, were efficient in other areas at the Big Dipper Ice Arena on the way to a 5-1 win in the first of three games this week against their intrastate and Midwest Division rival.
Right wing Reggie Lutz scored twice; center Clay Cross and left wing Tyler Tomberlin each had two assists; and goaltender CJ Boothe recorded 16 saves for Fairbanks, which raised its first-place record in the Midwest to 30-6-3 for 63 points in the standings.
Jordan Hank scored in the second period and Nicholas Nast made 24 saves for the Brown Bears, who are in sixth place in the division at 3-35-1 for seven points.
The Ice Dogs finished 1 for 12 on the power play, and were 0 for 11 with the extra skater until Evan Somoza ended the skid with 57 seconds left in the third period. Somoza's fourth goal and 30th point of the season was aided by Adam Kleven and Mitchell Baumann.
Boothe made an impressive save when Ethan Butcher entered the Fairbanks zone after the Brown Bears forward finished serving a roughing penalty that started at 6:09 of the third period.
Butcher collected a long pass from a teammate and attempted a backhand on Boothe's stick side, but his shot was greeted by Boothe's pad.
Hank made it a 1-1 score at 14:31 of the first period after he gained a faceoff draw by Brown Bears teammate Austin Junger and whipped the puck in off of Boothe's glove-side shoulder.
Cayden Cahill had provided the game's first goal for Fairbanks at 5:51 of the first, scoring from just inside the left circle with Cross's pass from the right circle. Liam Stirtzinger had the other assist on Cahill's 17th goal of the season.
Cross and Ryner Gorowsky set up Logan Coomes, the NAHL's third-leading scorer, for the go-ahead goal at 18:53 of the first period. Coomes gained the puck in the neutral zone and skated to just inside the left circle to send a wrist shot past Nast.
At 5:09 of the second period, Lutz gave Fairbanks a 3-1 lead by taking advantage of a bounce for the first of his back-to-back goals.
Nast denied Tomberlin's shot from the low slot and Tomberlin followed the rebound to the left side of the net. He centered a pass to Lutz in the mid slot and Lutz fired a shot that seemingly bounced in off of Nast's stomach.
Lutz, with help from Tomberlin and Josef Ingman, lit the lamp again at 18:55 of the third period with a shot from the blue line that went into an empty net after Nast was pulled for an extra attacker (story by Danny Martin, News-Miner)