IceRays edge Jackalopes in overtime on Tuesday, 5-4
December 30, 2015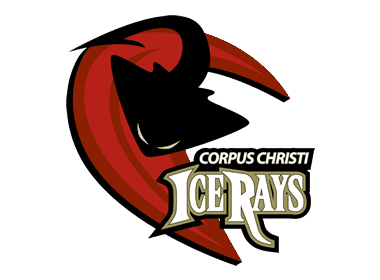 Odessa 4 @ Corpus Christi 5 (OT) - The Corpus Christi IceRays (11-14-3) forced the extra period and claimed a 5-4 overtime win over the Odessa Jackalopes (10-11-4) on Tuesday night at the American Bank Center.
The Jackalopes struck first in the opening period at 3:34 when forward Zach Zech tucked in a loose rebound to gain the 1-0 lead. The IceRays came back with two goals in the first period to get back the lead heading into the middle frame. Forward Regen Cavanagh pushed the puck through a slew of bodies in the Odessa crease at 13:45 to tie the game, 1-1. Less than a minute later at 14:21, defenseman Matt Acciaioli earned his first NAHL goal with a top-shelf shot from the left circle to give the home side the 2-1 lead.
Thanks to an early power play, the IceRays increased the lead to two, 3-1, when forward Carter Johnson found the puck in the middle of the slot and rifled it home. As the period wore on, Odessa took back momentum with three-unanswered goals. At 5:39, forward Jon Russell moved in a rebound after a quick spin to draw within one, 3-2. Forward Gray Marr pressed and scored from the left circle at 12:30 to even the score, 3-3, before the lead went back to the road side less than two minutes later. At 14:19, forward Oliver Celec converted on a bad turnover in the neutral zone with a deke to the right side while on a 3-on-0 breakaway to regain the lead, 4-3.
Scoring quieted down in the third period, but the IceRays converted on a key goal just shy of the midway point. Forward Toby Kircher was fed by both forwards Jimmy O'Brien and Brad LeLievre on the back side of the net to draw even, 4-4, at 9:35. With play subsiding into the final minutes of regulation, the game turned to overtime. Newly-acquired IceRays defenseman Cody Lichtenvoort baited out the Odessa defense and found LeLievre open for a touch-in back door to claim the 5-4 win, the full two points, and sole possession of fourth place.
IceRays goaltender Graham Hunt (6-8-2) stopped 27 of 31 shots in the win, while Jackalopes netminder Dean Shatzer (4-7-3) held off 35 of 40 shots in the overtime loss (story by Collin Schuck).