Janesville goalie LaFontaine makes NCAA DI commitment
December 15, 2015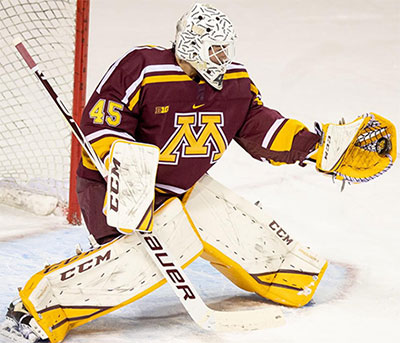 By Mason Lyttle, Janesville Jets
The Janesville Jets, proud members of the North American Hockey League (NAHL), are pleased to announce that goaltender Jack LaFontaine has committed to play NCAA Division I hockey for the University of Michigan Wolverines of the Big Ten.
"From the moment I stepped on campus, I knew I wanted to be a Wolverine," said LaFontaine. "It felt like home. It's always been on a dream of mine, since even minor midget. It's always been on my radar."
LaFontaine, a 1998-born goaltender from Mississauga, Ontario, has been a driving force behind head coach Joe Dibble's Jets. The team has allowed just 57 goals in 26 games, placing them second in the league defensively. LaFontaine's three shutouts are behind only New Jersey's Jack Berry, with four.
"Jack is competitive," said Janesville goaltending coach Larry Clemens. "He's willing to do whatever it takes to win, and whatever it takes to stop a puck. He's not worried about his perception. There's a certain uniqueness to that, too, because so many guys want to stay in structure, stay with a pro polish, but Jack is just going to do what it takes to win."
Asked for his favorite element of his game, LaFontaine echoed his goalie coach. "I'm very competitive in the net. I'm looking to bring that competitiveness to Michigan to build to win a Frozen Four championship. That's my goal and that's what I told the coaches I'd work towards."
Michigan is no stranger to winning. Under legendary coach Red Berenson, the Wolverines qualified for the NCAA Tournament in 22 consecutive seasons from 1991 to 2012. Berenson guided Michigan to 11 Frozen Four appearances and two NCAA championships, in 1996 and 1998.
"Coach Red is probably one of the best coaches of all time, not just in college hockey, but hockey in general," sang LaFontaine. Berenson won the Jack Adams award as the National Hockey League's coach of the year in 1981 with the St. Louis Blues. "He's a prolific coach and it's going to be a real honor learning under him. He's a man who wants to win a championship. That's something very enticing to me as a person. I want to be in a program and in an environment where it's win at all costs."
LaFontaine's passion for winning is evident in the numbers. He's won 11 of his 17 starts so far in his NAHL career. Last season, playing for the Georgetown Raiders of the Ontario Junior Hockey League, LaFontaine carried a 20-6-0 record and was selected to the First Team All-Prospect squad.
LaFontaine was a 3rd round selection from the Kitchener Rangers of the Ontario Hockey League in 2014. The Don Mills Flyers product chose instead to pursue the NCAA route, and so began his journey in American junior hockey.
"I think Janesville Jets goalies have always had that competitive edge," said LaFontaine, whose .927 save percentage and 1.77 goals against average each rank among the NAHL's top five goaltenders. "That's what makes them so sought after by schools."
He isn't wrong. Last season, Matt Jurusik lead the league in every major goaltending category with a 1.57 GAA, a .939 save percentage, 33 wins, and seven shutouts. Jurusik now commands the crease in Madison for the Wisconsin Badgers. Brock Kautz, another former Jet, plays for the Minnesota Golden Gophers. Asked about representing the Jets alongside Jurusik and Kautz in the Big Ten, LaFontaine showed his trademark competitiveness.
"It's cool that we're all trying to prove something in the same conference," he said. "Bad news for those guys, though. I'm not going to take it easy on them. I'm going to try to win as many games as I can."
Clemens says LaFontaine has been a special player to coach. "Jack's ceiling is one of the highest I've worked with," Clemens said. "He's one of the better Jets we've had. Some guys we've had were already at their peak in their time in Janesville, but the scary thing is Jack is going to get even better."
Clemens and LaFontaine have a strong, albeit new, relationship. "We hit it off since the first day we trained together," said Clemens. "It's been a very trusting relationship between us."
"Larry Clemens is one of the elite goaltending coaches in the North American Hockey League," LaFontaine said. "He goes above and beyond the call of duty in being my goalie coach. He's a fantastic man. He goes over film with me beyond practice hours, he helps me with hand-eye coordination drills, and he develops me not into a better a goalie but a better person.
The entire coaching staff, really, has done everything for me. Without them, I can tell you honestly that I would not have a commitment. I wouldn't be sitting with my family today with a big smile on my face."
LaFontaine becomes the fifth player of the 2015-2016 Jets to commit to a Division I program, joining Nils Rygaard (Alaska Anchorage), Kip Hoffmann (Alaska Anchorage), Michael Maloney (Brown) and Jack Gates (Colorado College).