Topeka beats Amarillo on Wednesday, 4-1
December 3, 2015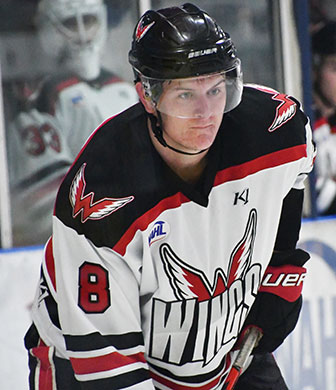 Amarillo 1 @ Topeka 4 - (by Denis Puska) The Amarillo Bulls and the Topeka RoadRunners renewed one of the best rivalries in the North American Hockey League on Wednesday night. The two teams have met more than 60 times in the short six-year history that the Bulls have been in the circuit.
Two early first period goals were the difference in this game as the Amarillo Bulls fell to the Topeka RoadRunners 4-1. It pushed the Bulls winless streak to seven games, while Topeka won its sixth in a row and pulled to within two points of second place Lone Star Brahmas.
Johan Lundgren notched the lone Bulls goal that broke the shutout bid of Juho Niku in the third period. Anton Martinsson took the loss in the goal and was replaced by Jacob Weatherly early in the third period. Weatherly played well and didn't allow a goal. Marcus Russell scored twice for Topeka.
It was a slow start for both teams in the opening period as they combined for a total of 11 shots on goal. The RoadRunners were able to grab the early lead with two goals eight seconds apart. The first goal was scored on a partial breakaway by Matt Jennings while the second one occurred on a play in front of the net by Dominic Lutz.
Topeka added to their lead just past the five-minute mark of the middle period as Russell converted a two-on-one break up the ice. The Bulls penalty killing was on their game in the contest, killing off several penalties including a five-minute major in the second period. George Mika nearly got the Bulls back into the game late in the period, but his back hand shot sailed over top of the net. Topeka outshot Amarillo 18-3 in the second period.
Just 10 seconds into the third period Topeka scored their fourth and final goal off a turnover at center ice as Russell added his second goal of the game. Jacob Weatherly took over for Martinsson in goal and stopped all nine shots he faced.
The Bulls power play got rolling midway through the stanza as Michael Forman spotted Johan Lundgren open at the side of the net. Charlie Singerhouse provided the second assist on the play.
The Topeka RoadRunners outshot the Amarillo Bulls 39-9 in the contest. There were a total of eight power plays in the game with the RoadRunners going 0 for 7 and the Bulls were 1 for 1 in their lone attempt. Niku had to make just eight saves in the win.