Bobcats crowned Robertson Cup champions
May 9, 2010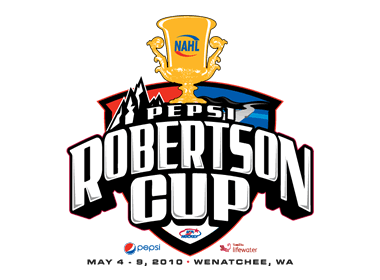 WENATCHEE, WASH. - The Bismarck Bobcats celebrated the North American Hockey League's (NAHL) 2010 Robertson Cup championship with a 3-0 victory over the Fairbanks Ice Dogs in the title game on Sunday at the Town Toyota Center in Wenatchee, Wash.

Bobcats forwards Casey Kleisinger (game-winner), Jason Fabian - both of whom were named to the All-Tournament Team - and Sean McKenzie scored in the victory, and goaltender Ryan Faragher turned aside all 21 shots.

Kleisinger, a 20-year-old from Edwards, Colo., was named the Most Valuable Player. The Air Force Academy recruit totaled two goals and four assists for the tournament.

Also named to the All-Tournament Team were Ice Dogs forward George Michalke; Bobcats defenseman Sam Rendle and Wenatchee Wild defenseman Adam McKenzie; and Ice Dogs goaltender Joe Phillippi.

The Robertson Cup is awarded to the playoff champion of the NAHL, which also represents USA Hockey's Tier II Junior A national champion.

The oldest junior hockey trophy in the United States, the Robertson Cup is named in honor of Chuck Robertson, a pioneer of junior hockey in the NAHL and youth hockey in the state of Michigan. Chuck Robertson was the owner of the Paddock Pools Saints when they won a record seven straight NAHL championships from 1976-83.

For more information on the Robertson Cup Championship Tournament, visit Robertson Cup.com.