NAHL announces monthly awards for October
November 4, 2015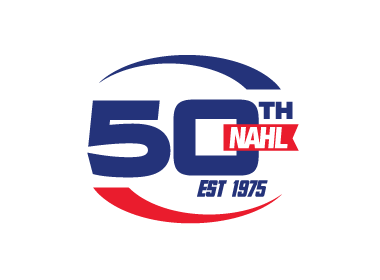 The North American Hockey League (NAHL) has announced its monthly player awards for the month of October. The Easton Hockey NAHL Forward of the Month is Tyler Cline from the Minnesota Wilderness. The Easton Hockey NAHL Defenseman of the Month is Alex Mehnert from the Fairbanks Ice Dogs. The Vaughn NAHL Goaltender of the Month is Niko Della Maggorie from the Springfield Jr. Blues. Only players who are nominated by their respective teams are considered for the NAHL monthly awards.
Easton Hockey NAHL Forward of the Month: Tyler Cline, Minnesota Wilderness
It was a big month for Blaine, Minnesota native Tyler Cline. The 20-year-old recruit of the University of Alaska-Fairbanks, led the NAHL with 17 points during the month of October as the Wilderness fashioned together a 9-2-0 record. Cline (5'9/180) recorded at least a point in 10 out of the 11 games during the month and had five multi-point games. During the week ending October 18th, Cline was named the Midwest Division Star of the Week for his seven-point week in just two games. In total for the month, Cline had 10 goals, seven assists, had two game-winning goals and was a +6 in just nine games played. He currently leads the Wilderness in scoring with 20 points in 13 games played. "Tyler had a great month of offensive production but more importantly, overall play with his hard work. When Tyler is playing the game the right way, he is one of the top players in the league and a big boost to our team," said Wilderness head coach Corey Millen.
"The team really clicked in October. We know we have a target on our chest every night, so it is important we stick to Coach Millen's systems. I think we started to figure things out and gel more as a team," said Cline. "We have a good group of guys here this year, but it is important to remember it is a different team than last year. It takes time for that cohesiveness to work. I just want to keep getting better every day because I want to enter the NCAA next year as a player who is going to make an impact. I think if we can focus on starting our weekend's with good games on Friday, that will set the tone for a more consistent weekend."
Runner-Up: Johnny Walker, Minot Minotauros
Honorable Mention (alphabetical): Austin Albrecht, Wichita Falls Wildcats – Oskar Andren, Lone Star Brahmas – Dean Balsamo, Aston Rebels – Cameron Cook, Kenai River Brown Bears – Tucker DeYoung, Aberdeen Wings – Gilbert Gabor, Austin Bruins – Ryner Gorowsky, Fairbanks Ice Dogs – Mason Krueger, Corpus Christi IceRays – Dominic Lutz, Topeka RoadRunners – Joey Molinaro, Amarillo Bulls – Andrew Romano, Johnstown Tomahawks – Trevor Stone, Springfield Jr. Blues – Alex Strand, Bismarck Bobcats – Martin Sundberg, Janesville Jets
Easton Hockey NAHL Defenseman of the Month: Alex Mehnert, Fairbanks Ice Dogs
Fairbanks defenseman Alex Mehnert, 18, helped his club to a 5-2-1 record in the month of October as Fairbanks stayed atop of the NAHL's Midwest Division. The native of Moorhead, Minnesota, recorded a point from the blueline in six of his eight games played during the month of October and finished the month with eight points along with a +5 rating. Mehnert (5'10/175) had two multi-point games during the month which came in a 6-2 win over Kenai River back on October 10th and a 7-5 win over Johnstown on October 31st. Mehnert's point totals included two goals and six assists. His 14 points current leads all NAHL defensemen and his +13 rating ranks 2nd. "Alex had a very strong month. He has come in and really benefitted from playing with his veteran partner, Adam Kleven. Alex has an above average skill set with great hockey sense, and we look for his continued development throughout the season," said Fairbanks head coach Trevor Stewart.
"First and foremost, I have some unbelievably talented teammates around me. We have very solid defensive corps and our forwards can really put up points and make things happen. Both of goalies are also very strong and can back us up if we give up chances, so it is breeds a culture of success," said Mehnert. "I think after adjusting to the speed of the NAHL, I have been able to adapt and grow. Making good decisions with the puck is so important, particularly that first pass that starts a rush up the ice. I want to continue to improve and try and help lead this team to a Robertson Cup. After that, I hope to earn an NCAA Division I commitment."
Runner-Up: Kristofers Bindulis, Aston Rebels
Honorable Mention (alphabetical): Jeff Baum, Wichita Falls Wildcats – Zak Galambos, Johnstown Tomahawks – Tyler Hayes, Topeka RoadRunners – James LaDouce, Minot Minotauros – Dylan McArthur, Kenai River Brown Bears – Adam Roeder, Janesville Jets – Keenan Sabatini, Amarillo Bulls – Anthony Scarsella, Springfield Jr. Blues – Tyler Vold, Minnesota Wilderness – Nick Wallace, Bismarck Bobcats
Vaughn NAHL Goaltender of the Month: Niko Della Maggorie
The Springfield Jr. Blues made a huge jump in the Midwest Division standings during the month of October as they put together an 8-2-1 record in 11 games. Veteran goaltender Niko Della Maggorie, 20, played a big role in the team's success during the month. The native of Gilroy, California, played in five games and posted a 4-0-1 record with a 1.17 goals against average and a 96.2% save percentage. During the month, Della Maggorie (5'11/190) faced 158 shots and stopped 152 of them. He never allowed more than two goals in a game and also had one shutout, which came back on October 10th when he made 35 saves in a win in Coulee Region. For the season, Della Maggorie ranks tied for 6th in the NAHL in save percentageat 92.9%. He is also a product of the NAPHL, having played two years in the league from 2010-12 for the San Jose Jr. Sharks under then coach Tony Zasowski, who is now his current head coach in Springfield. "Niko had a great month of October and it started in the offseason. Niko came in the best shape he has been in and with great practice habits. He built momentum with a good game in Coulee Region early in the month and has won some big games for us since then," said Jr. Blues head coach Tony Zasowski.
"I think we have a really good tandem here with myself and Tommy Nappier. He is a really good and young goalie and we push each other, which I think makes us both better in the long term," said Della Maggorie. "I think the team this year has a better chemistry and guys are really willing to go to battle for one another. Everyone is working hard on and off the ice and we don't want to let one another down, so that has driven a lot of success. I think having Tony as a coach at this level and previously in the NAPHL has really enabled me to get me to this point. It is nice to have a coach who was a goalie and understands the development process and hopefully that will lead to an opportunity in the NCAA," said Della Maggorie.
Runner-Up: Justin Kapelmaster, Wichita Falls Wildcats
Honorable Mention (alphabetical): Kris Carlson, Austin Bruins – Jon Flakne, Minot Minotauros – Darion Hanson, Aston Rebels – Tyler Johnson, Topeka RoadRunners – Corbin Kaczperski, Lone Star Brahmas – Jack LaFontaine, Janesville Jets – Anton Martinsson, Amarillo Bulls – Chase Munroe, Minnesota Wilderness – Nick Nast, Kenai River Brown Bears – Gavin Nieto, Fairbanks Ice Dogs – Hunter Shepard, Bismarck Bobcats – Hunter Vorva, Coulee Region Chill
About Easton
Easton Hockey continues to rank atop the industry in sticks and gloves and is growing faster in skates than any other company. It also offers a comprehensive collection of protective gear including helmets and pants. To learn more, go to www.eastonhockey.com
About Vaughn
Vaughn is the official Goaltending Equipment Partner to the NAHL and serves as the Preferred Goaltending Equipment Supplier of the NA3HL and NAPHL. Founded in 1982, Vaughn became one of the first major hockey production companies to use multiple foam layers in equipment. As strictly a goalie equipment company, the main focus for Vaughn is the innovation and quality of their product. Visit Vaughn online at: www.vaughnhockey.com