Stage set for Robertson Cup championship game
May 8, 2010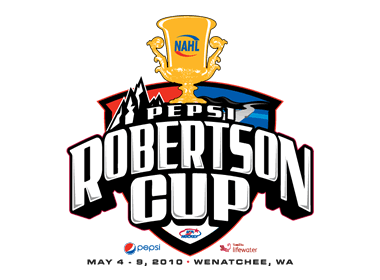 WENATCHEE, WASH. – The Fairbanks Ice Dogs (3-1) advanced to the Robertson Cup championship game after their 4-3 win over the Bismarck Bobcats (2-2) on the final day of the round-robin portion of the Robertson Cup Championship Tournament at the Town Toyota Center in Wenatchee, Wash.

The Ice Dogs will play the Bobcats in the championship game tomorrow (Sunday) at 5:05 local time.

Four different players scored for Fairbanks in its win over Bismarck, with forward Mark Pustin connecting for a goal and an assist. Forward Jared Larson struck for the shorthanded game-winner in the third period, and goaltender Joe Phillippi turned aside 30 shots.

View the box score here.
View highlights of the game here.

The Ice Dogs finished with the best record in the round robin with a 3-1 mark.

In the final game of the tournament's round robin, the Wenatchee Wild (2-2) downed the St. Louis Bandits (1-3), 5-4, in overtime. Forward Armand Deswardt notched the game-winner in the extra session, and goaltender Brandon Jensen made 32 saves.

View the box score here.

For more information on the Robertson Cup Championship Tournament, visit RobertsonCup.com.