Gongshow Flow of the Month winner for October announced
November 2, 2015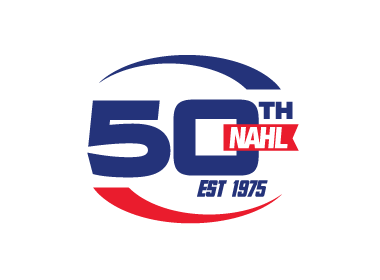 October… Fall arrives, there is a chill in the air, the leaves start to turn colors and a hockey players hair enters what is known as the 'wheel house' for what their flow is starting to become. The season is two months old and player's flow is in full effect.
So we look back on October and we had many quality submissions. But, as they say better late than never, and with that a late submission right before the month was over ended up taking the cake.
The winner this month in the NAHL is Brookings Blizzard defenseman Dominick Procopio.
Procopio, 18, is in his first season of playing junior hockey in the NAHL. The native of Grosse Pointe, Michigan has played in seven games thus far with the Blizzard and is a +1.
Prior to his arrival in the NAHL with the Blizzard, Procopio (6'2/195) played Midget hockey for both Compuware and Victory Honda.
We think that this flow of the month honor is exactly what Procopio needs to take his game to the next level and start racking up the points.
He really stepped his game up with the submission photo and tweet. We aren't gonna lie… you do get some extra bonus points with some nice NAHL branding. Not only does Procopio do it here with the NAHL Gongshow Gear hat on, but he also is sporting his Brookings Blizzard jersey, complete with the 40th anniversary logo.
But, true to form of all Flow of the Month winners, Procopio's flow is the true star of the photo. It is long, lengthy and have developed into quite the nest in the back. Also, is it us or does Dominick share a striking resemblance to NHL superstar Sydney Crosby? You be the judge, but either way, that is some great flow!
For the fifth season in a row, Gongshow is the exclusive sponsor of the Flow of the Month promotion exclusively on the NAHL and Gongshow Twitter sites
@NAHLHockey
and
@GONGSHOWGEAR
.
Fans and players alike are encouraged to submit photos of their best 'hockey hair' or 'flow' via Twitter by the end of every month during the regular season.
To enter the contest for the month of November, submit your best
#FlowoftheMonth
pictures by November 30th to
@NAHLHockey
and
@GONGSHOWGEAR
. Two winners will be selected on December 1st. Winners will receive a Gongshow Gear hat.
During the month of November, Gongshow and the NAHL will team up for their 'Movember' campaign, as NAHL coaches, staff and players will support Men's health and cancer awareness by growing moustaches. Gongshow will be providing the prize pack to the team that raises the most funds. Extra consideration will be given to those who submit flow and mo!
Gongshow Gear Inc. (Gongshow) is the Official Lifestyle Hockey Apparel of the NAHL. Gongshow is also the sponsor of the NAHL TV platform on the NAHL website at NAHL.com. Gongshow is recognized as the hockey good industry's premier manufacturer of innovative, high quality, fashionable and trend setting clothing apparel for hockey athletes of all ages and abilities. Visit them online at
www.gongshowgear.com